START YOUR JOURNEY TO A RUGBY SCHOLARSHIP IN THE USA!
We're on the lookout for talented rugby players who want to play and train at some of the best facilities in the world …
FirstPoint USA, the world's leading international sports scholarship agency, are staging a series of rugby assessment trials across the UK, giving you the chance to put yourself in the spotlight, showcase your talents in front of an audience of scouts, and secure a university playing contract in the USA.
You'll also have the chance to speak to our team of former student-athletes about the incredible life-changing opportunities that a university rugby scholarship can offer, and some of the amazing college and university campuses that are ready to welcome you.
Sign up to your nearest FirstPoint USA rugby trial now!
Upcoming Events
Our USA Scholarship Trials are back, find your closest event and register today
Frequently Asked Questions
FirstPoint USA will typically start working with clients between the ages of 15 and 21-years old. However, it is possible to secure a sports scholarship right up until the age of 24. Student athletes will not leave for the USA to begin their scholarship journey until they are at least 18 years of age, starting either in the Fall (August) or Spring (January).
Training gear – please come dressed to play
Suitable footwear for 3G or 4G surfaces
Water
Each event will normally last around 3 hours, from registration through to the debrief
An introductory presentation on football scholarships from our team
On field introduction and warm-up session
Position-specific drills with our experienced professional coaches
Small-sided games to assess your talent and ability
• Review and feedback
After the event you will be recieved feedback on your performance on the day, if you are succesful you will be invited to an interview at a local venue to discuss the process and your eligibility for a scholarship. If you are eligible you will be offered a place after the interview.
What our Student-Athletes say about us "They've gone above and beyond "
Can't thank the guys at FirstPoint USA enough for helping my son get out to the US on a soccer scholarship. He's now in his second year in America and is loving it despite being homesick for the first few weeks! We spoke with multiple different companies before deciding which company to choose and although they weren't the cheapest, they've been with us every step of the way and only been a phone call or text message away if we had any issues. They never made any false promises or unrealistic expectations and delivered the service exactly as described. They've gone above and beyond to make sure we were well looked after every step of the way.
Sandra Mulhenny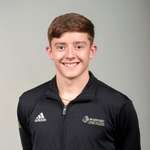 "I couldn't be happier"
I couldn't be happier with my experience working with Firstpoint USA. Having just graduated from university in South Carolina, I am so grateful for the life changing experience and opportunities that have been available to me as an NCAA DI student athlete. None of which would have been possible without the expertise and knowledge of the staff at Firstpoint USA. Would highly recommend FPUSA to anyone thinking about going to university in the USA
Josh Hendry "process has been made simple"
The FirstPointUSA team as a whole are excellent. The whole process has been made simple by their clear communication, especially Gemma Thomson who I worked with. The organisation in every aspect of their work is very good, and I would definitely recommend FirstPointUSA to anybody thinking about attaining a scholarship in the US..
Isaac Thomas
Game-Changing Advice From
Former Student-Athletes