We're thrilled to welcome soccer player, Ruffa-Mae Meger, to the #FirstPointFamily!
We recently caught up with Ruffa, who shared with us, some more about her sporting background, reasons for wishing to pursue a sports scholarship in the States and what she is most looking forward to upon beginning her life as a scholar-athlete.
Ruffa has been playing academy football for the past four years after previously playing at a grassroots level. She started her first two seasons at Arsenal Rtc and throughout her second season, she was involved with England Training Camps. Ruffa says that she was fortunate enough to make her debut in May 2018 against Belgium as a U15 International fixture. Following this, she then became involved with two more U16 training camps before her move to MK Dons Rtc for her U16 season. At the moment, Ruffa is currently playing in the U21 development squad and is hoping to make her first-team debut soon.
With this lengthy sporting career behind her, we asked Ruffa to tell us about her favourite sporting memory to date. She stated, "My favourite sporting memory to date would be my debut for England and being able to travel abroad with the squad."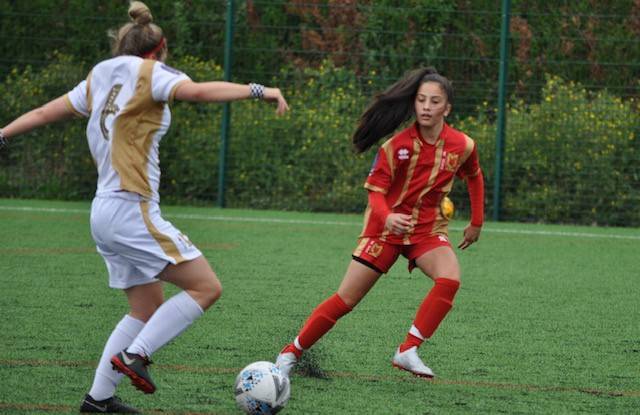 Ruffa tells us that she has always wanted to be able to play soccer in the USA and that the soccer scholarship allows her to maintain her education whilst playing soccer, which is equally as important to her.
When asked how she heard about FirstPoint USA and what we offer, she replied that she had seen our social media pages and looked into us more after being on Instagram.
Finally, we asked Ruffa what she is most looking forward to in her journey as a scholar-athlete in America, to which she replied: "I am very excited to learn and see a different aspect of football and make new friends."
Welcome to #FirstPointFamily Ruffa! Keep up to date with Ruffa's progress throughout her scholarship process across our various social media platforms; Facebook, Twitter, Instagram and LinkedIn.
Feeling inspired? Apply to FirstPoint USA today!