History of Sport & Christmas.
Christmas Truce Match of WWI: December 25, 1914.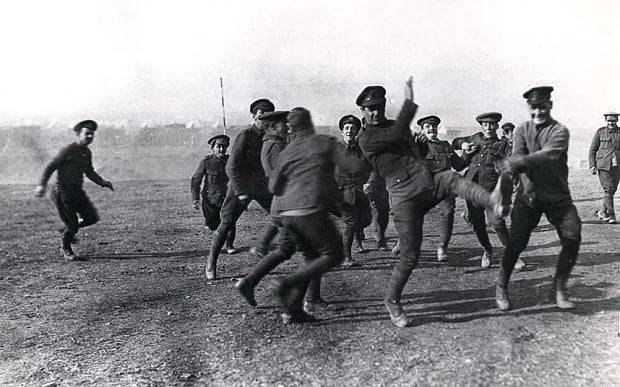 Proving that some of the greatest moments in the history of sports aren't confined to the professional leagues or even this generation, the Christmas truce match was a friendly game of (non-American football) between German and British troops at the height of World War I.
The story of football at Christmas between German armies and Allied forces is known worldwide and conveys a powerful message that sport can unite even the most bitter of enemies.
Reports of matches in 'no-man's land@ on Christmas day are useful in telling us about how the matches came to happen and the joy that they brought to the soldiers, yet factual evidence on the matches is sparse.
It has often been said that first match between a german team and an English team happened on Christmas day in 1914 when a German threw a football into 'no-man's land'. Rumour has it this resulted in a 3-2 German victory.
More reliable reports suggest that a match did take place near to Wulverghem and that no scores were recorded. Regardless of the facts, this story truly shows the powerful uniting force that both football and the Christmas spirit can be.
A Very Merry NBA Christmas.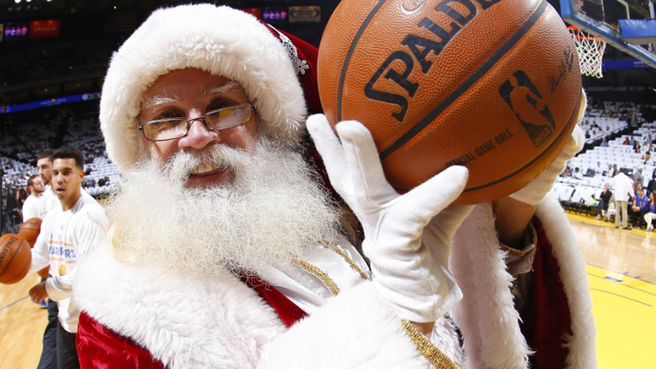 For NBA fans, Christmas Day is generally highlighted by three things: Family, food and basketball.
The NBA has staged close to 250 games on Christmas Day over seven decades. Organisers say that the festive games are played "in a truly family, festive environment", and provide tams with another means "to connect with fans in a unique way, both in-arena and through tailored TV sports."
The NBA on Christmas Day is now a global event televised in more than 200 countries and territories, and in more than 40 languages.
Tis' The Season of the NFL.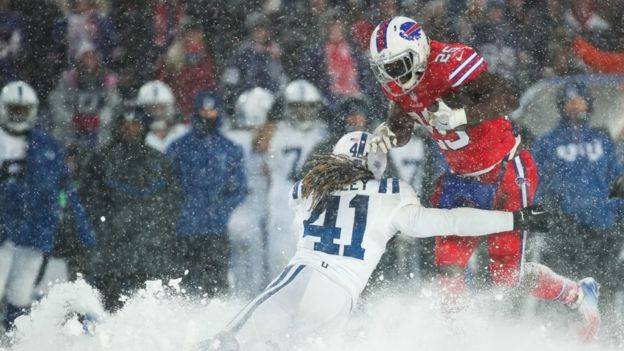 There have been 19 NFL games on Christmas Day over the past 46 years, 17 of them since 1989.
"The games are a very positive thing for the NFL, and for the teams involved," says Alistair Kirkwood, managing director of the NFL in the UK.
"And - because it is known well in advance if there will be Christmas Day games - there is no controversy about hosting matches on this special holiday day."
He explains that games during the season are held on Thursdays, Sundays and Mondays, with the occasional Saturday night game.
"If Christmas Day falls on one of these days then the games will get played if it doesn't then there are no games as would normally be the case."
"There is a real kudos in being involved in one of these national TV games when up to 20 million people tune in," Mr Kirkwood adds.
"Most games are shown only on television in their home states, so to be seen in the national window, to be seen coast to coast to the biggest audiences, is a huge attraction and opportunity for teams."
Festive Fixtures.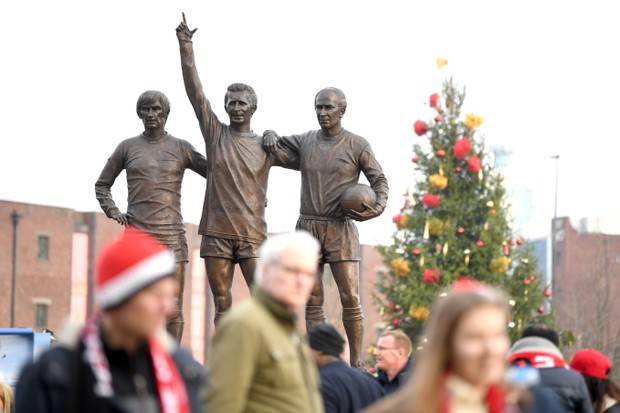 Football and Christmas go together like turkey and stuffing, like pigs and blankets, like Jose Mourinho and a flair for the dramatic.
If you think there's a better combo than leftover turkey sandwiches and Boxing Day football, you would be absolutely wrong.
Christmas is coming and a mouth-watering 29 Premier League games will be televised in just 13 days over the festive period.
Sky Sports have been joined by Amazon Prime Video and BT Sport in the fixture pile-up, with a pair of broadcasters each boasting their own mega day crammed with NINE games beamed directly to your living room.
To make it easier for you we've put the official schedule and where eyou can watch them below:
Premier League on TV at Christmas:
All games kick off at 3:00pm unless stated otherwise
Match previews coming soon…
Saturday 21st December
Everton v Arsenal (12:30pm) BT Sport
Manchester City v Leicester (5:30pm) Sky Sports & NOW TV
---
Sunday 22nd December
Watford v Manchester United (2:00pm) Sky Sports & NOW TV
Tottenham v Chelsea (4:30pm) Sky Sports & NOW TV
---
Thursday 26th December
Tottenham v Brighton (12:30pm) Amazon Prime
Bournemouth v Arsenal – Amazon Prime
Aston Villa v Norwich – Amazon Prime
Chelsea v Southampton – Amazon Prime
Crystal Palace v West Ham – Amazon Prime
Everton v Burnley – Amazon Prime
Sheffield United v Watford – Amazon Prime
Manchester United v Newcastle (5:30pm) Amazon Prime
Leicester v Liverpool (8:00pm) Amazon Prime
---
Friday 27th December
Wolves v Manchester City (7:45pm) Amazon Prime
---
Saturday 28th December
Brighton v Bournemouth (12:30pm) Sky Sports & NOW TV
Norwich v Tottenham (5:30pm) Sky Sports & NOW TV
Burnley v Manchester United (7:45pm) BT Sport
---
Sunday 29th December
Arsenal v Chelsea (2:00pm) Sky Sports & NOW TV
Liverpool v Wolves (4:30pm) Sky Sports & NOW TV
---
Wednesday 1st January
Brighton v Chelsea (12:30pm) BT Sport
Burnley v Aston Villa (12:30pm) BT Sport
Newcastle v Leicester – BT Sport
Southampton v Tottenham – BT Sport
Watford v Wolves – BT Sport
Manchester City v Everton (5:30pm) BT Sport
Norwich v Crystal Palace (5:30pm) BT Sport
West Ham v Bournemouth (5:30pm) BT Sport
Arsenal v Manchester United (8:00pm) BT Sport
---
Thursday 2nd January
Liverpool v Sheffield United (8:00pm) BT Sport
From everyone here at FirstPoint - have a very Merry Christmas!