For Nick Weightman, taking a trip down memory lane serves as a quick reminder as to just how much life has changed.
Back in 2004, a 16-year-old Nick was making waves as a prolific striker for youth teams at Hibernian in Edinburgh, Scotland, earning international recognition at the same time.
Fast forward 16 years – half his lifetime – and he is very happy and settled across the Atlantic, enjoying a successful career in banking, married to his American wife Erica and starting a family this year, with their son Callum born earlier in January 2020.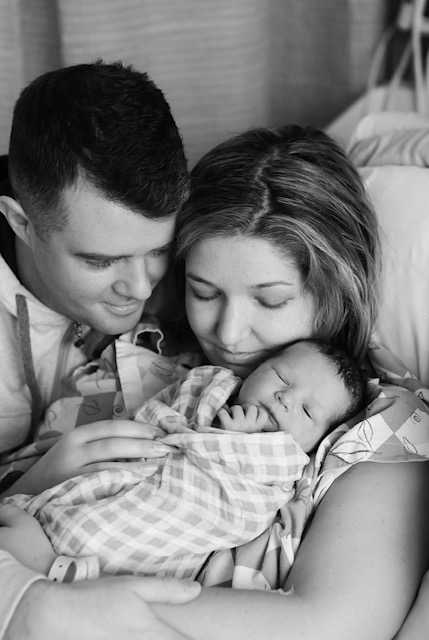 FirstPoint USA spoke to Nick to learn all about his journey …
FP: So when and how did you discover that studying and playing in the US was an option?
NW: I actually had never even thought about a scholar-athlete move to the US. At the time my thoughts were to get the highers completed (I'd left at 16) then apply to university in Scotland and see what happens. The thought of not getting paid was a hard one for me to get my head around, then a chance conversation planted the seed. I knew a good friend of mine Gary Crooks had done it and he seemed to be enjoying it. I eventually came around to the idea, that if I was going to be playing and go to school, why not do it in America.
A big thing was my parents were supportive and thought it might be a good experience. I looked at the education, the standard of the football and the standard of life and thought 'why not give it a try, if I don't enjoy it I can be back to Scotland in six months and do what I wanted to do here knowing I gave it a try'.
FP: The prospect of moving continents, adapting to different cultures and a new lifestyle, not to mention the challenge of the athlete-scholarship itself can be daunting to many – what made it easier?
NW: When I first moved over I was ineligible for the NCAA, so I ended up in a smaller college in Florida with a bunch of other international guys from the likes of Ireland, France and Sweden. We were a close-knit crew, the head coach was English and to be honest it was like I was back in the locker room (changing room!) at Hibs. It was some experience, we had sunshine 24/7, played tennis between class, went to the pool and spent quite a few nights out in downtown Disney.
That was a different experience from my time at Cincinnati. At Cincinnati the first day I arrived was my 21st birthday. I remember it like yesterday because it was a much bigger school, I was a little overwhelmed coming from the smaller places in Florida. It was mostly Americans on the Cincinnati team too, versus what I'd been used to. One of the boys in the locker room (who introduced me to my wife and is now one of my best friends) heard it was my 21st and said 'no excuses we're going out' and immediately they welcomed me into the team.
In both circumstances, I was welcome into the locker room with open arms. Most of the boys on your team are from away and they've been through what you have, they want you to be happy. It wasn't like some of the professional locker rooms I've been into, nobody was worried about their career, nobody was out to give you a hard time.
FP: Tell us about both the academic and sporting experiences you enjoyed while at UC:
NW: While I was at UC I worked hard, went to classes and got my work done. The classes were huge, a lot of people, most living on campus and studying at the library and in the study halls. The teachers were supportive, with interesting backgrounds, and most of the people there were in school to learn and have a good time. So that makes it easy to enjoy.
Sporting experiences were great from the start. I was blown away with the professionalism – from massive changing rooms and professional, branded kit to video rooms and flying to games. I went to Cincinnati and for the first time thought 'this is what I feels like to be a pro'. The way we travelled, ate, trained, everything was done to a level I hadn't seen in Scotland."
FP: And your proudest moment while studying?:
NW: I think my goal against UConn in the big East quarter would have to be the one. It was one of the best goals of my career, in one of the biggest games of my career, at home, in front of a good crowd and into one of the best goalies in the country. From about 35 yards out I struck one into the top corner with my weaker foot. My parents being out for my graduation was up there too, just because I was proud of the years of hard work - but I'd give the nod to the goal!
FP: Can you sum up the impact and influence of your US scholarship on life in 2020?
NW: I say this all the time to my wife. I'm so lucky that Hibs released me because without that I just wouldn't be here living the life I am today. I have a great job, a beautiful wife, a baby on the way and we just built a house I would never have imagined I could afford to live in. It's hard to argue that the scholarship hasn't changed or even made my life.
FP: And finally, what advice would you offer to any young athletes considering following in your footsteps?
NW: I would ask them what they have to lose by giving it a try. I have friends who have a similar story to me, and I also have friends who did it for a few years and went back and finished education in Scotland. They were better off after two years, even six months than they would've been if they'd never tried it. You go out and see things and have experiences that others never get the chance to.
Inspired by Nick? Find out more about athlete-scholar opportunities in the US here!