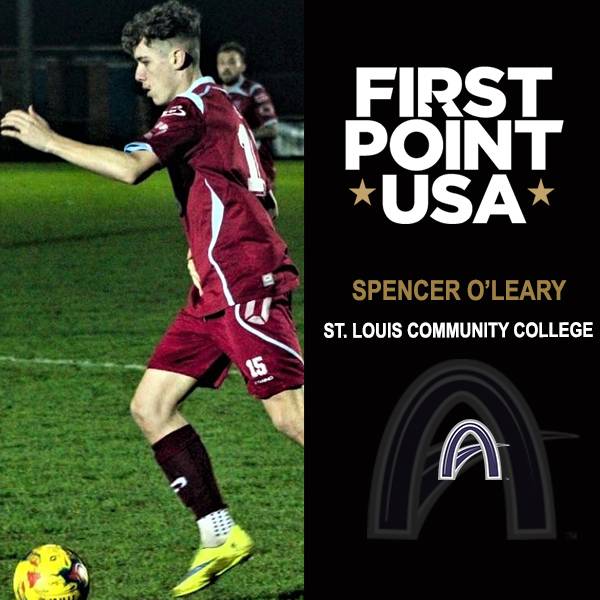 We are thrilled to announce that FirstPoint USA's very own Spencer O' Leary has confirmed his place and is committed to St Louis Community College. The soccer-athlete is set to join the St Louis Archers this August. Spencer shares with us, his reasons for perusing a sports scholarship in the U.S.
Spencer currently plays for Crawley Green U18 Floodlit Youth League, however in previous years has played for Crawley Green first team and Bedfordshire county. Upon signing with FirstPont USA we asked him what made him want to study in the States, to which he replied: "I like the concept of being a student-athlete as the study should always come first, and the soccer is a bonus."
St Louis Community College is home to the Archers men's soccer team, who have won the regional title regularly over the past seasons. Therefore, it is easy to see why Spencer has picked St Louis as his place of study. We asked Spencer, what it was exactly that made him decide on becoming an Archer, he responded: "I wanted to take a Sports Management degree after my two years out there and I feel like St. Louis is ideal for me both for the setup it will provide, and of-course as their facilities look great!"
Spencer joined the FirstPoint Family back in 2018 and we are excited to see him progress in the States, we asked the soccer-athlete to reflect back on the process. He shared with us "The process was good, Gary McDonald was always helpful throughout. I could call him whenever and he would always reply to any email I sent him very quickly which made it easier for me."
Finally, we asked Spencer what he was most looking forward to about becoming a scholar-athlete in the US, he said: "I am looking forward to having independence, living on my own away from my family and developing as an adult. I'm also excited to meet new people out in Missouri and can't wait to get out there to start the season."
Best of Luck Spencer, we know you will do great out in Missouri and we are looking forward to keeping up with the rest of your scholarship journey!

Keep up to date with everything FirstPoint, by following our social media pages!