We recently sat down with a few members of the FirstPoint USA team to learn more about their own student-athlete experience out in the USA, and first up is our Partnership Relations Manager, Kirsten Lawrence.
Kirsten initially joined FirstPoint back in January as part of our specialist athlete-facing talent management consultancy team given her extensive background as not only a highly successful student-athlete herself but also in part to her wealth of experience on the academic and coaching side of US college sports as well. Since then, Kirsten has progressed into the newly-created role of Partnership Relations Manager.
We had a chat with Kirsten to better understand her own career as a student-athlete, her journey to FirstPoint USA and find out about her new position within the business.
Which university did you attend?
"I went to Campbell University, which is a relatively small NCAA Division I school in the buzzing metropolis of Buies Creek, North Carolina".
Which sport did you compete in?
"I was a women's soccer student-athlete".
When did you join FirstPoint USA?
"Initially I joined the company as a Talent Management Consultant in January this year, so in this role I would take on clients at the promotion and guidance stage of their scholarship journey. Very much helping them understand what the next steps are and providing some advice and context on not only how they can make that move over to the United States, but also what to expect once they do so. The role generally progresses alongside the athletes themselves, initially it's about informing and educating, and then it becomes more focused on guiding them as they go through the process of talking to the coaches and recruitment staff. A lot of the time, the challenge is helping them to understand the differences between the offers they receive, being able to contextualise things like the environment, their position within the team, how the dynamics of the conference and level will impact their careers".
Talk to us about your new position as Partner Relations Manager
"This role is still very new to the business and I'll be working more closely with our partners and helping to plan and really clearly define each of the professional relationships we have with those institutions. Part of the initial ideology of this position being created was to build out our partner processes and set out a new framework for nurturing and developing those partnerships over in the States to the benefit of our athletes and continue to add value as a recruitment agency".
"Another crucial part of this new position is to continue working alongside the Talent Management Team to gather information on our athletes and their progress before they head out in the states. That could involve anything from speaking to the coaching staff or athletic directors, providing us a more well-rounded assessment of their level, and help us to set clear expectations. We also want to better educate these key stakeholders and individuals on how they can best utilise FirstPoint as a service".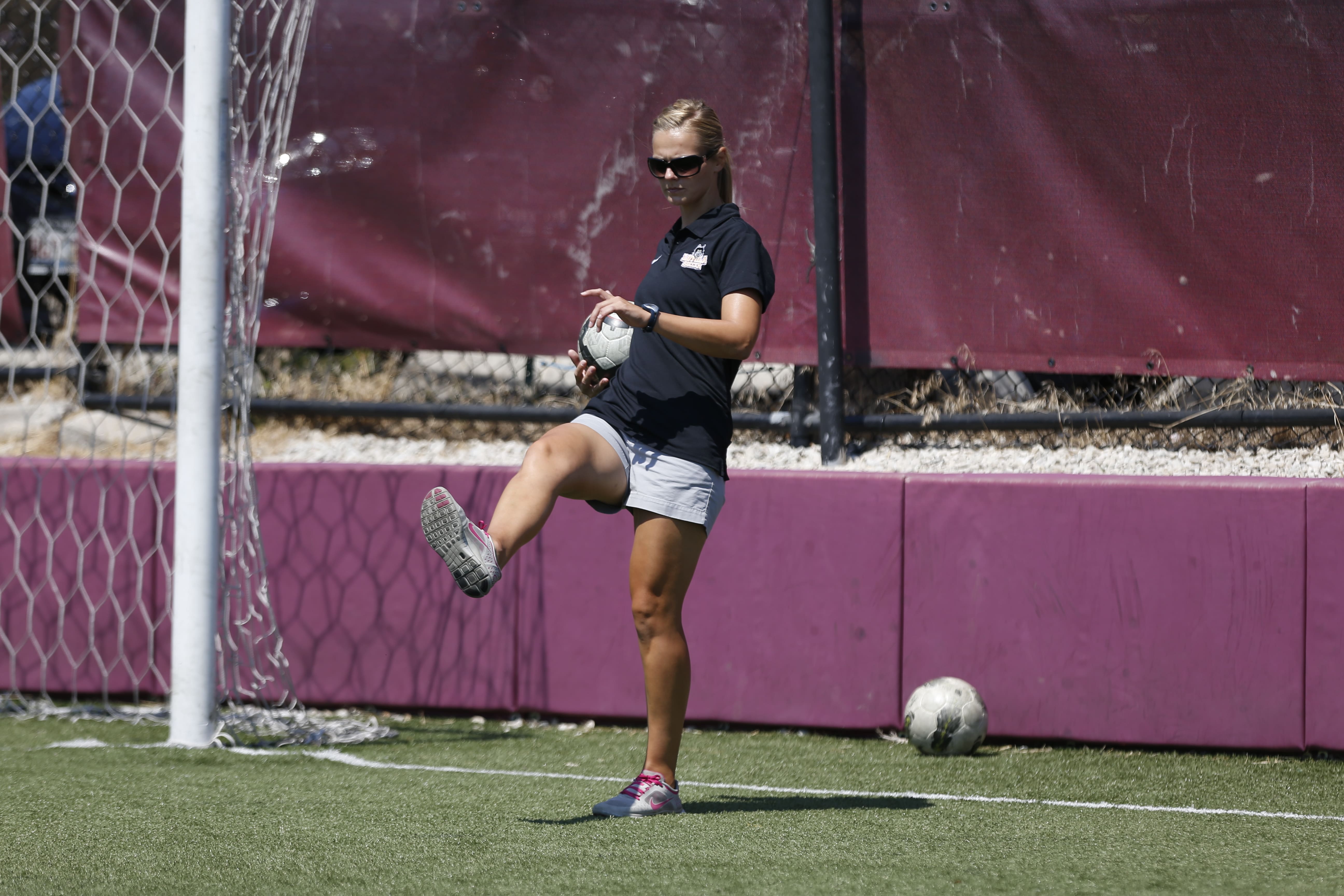 What are the benefits of studying in the USA?
"For me, it's interesting because I don't think I ever really planned to go to university wholeheartedly, but my mum helped talk me into it and I actually ended up going to America for a master's degree in education, so first and foremost it got me my own education. And through that, it enabled me to teach in colleges out there as well, which in turn helped me to gain my permanent residence to stay after graduation, which also allowed me to further my coaching career in soccer. I think if you really embrace yourself in the school and its community, doors will naturally open for you".
What was your own personal highlight at Campbell University?
"My situation was a little different, so because I was a graduate student, I only had one year of eligibility, but it was the absolute picture-perfect season. I walked into a team that was predominantly made up of seniors, they were all so driven, they had been growing and developing together and I was able to find my role as an additional piece of the puzzle. We won our regular season conference, we went on and won the conference tournament against some of our biggest rivals, and then we went to the national tournament to play against the previous year's champions, who are one of the biggest names in college sports in University of North Carolina at Chapel Hill, which was an unbelievable experience".
What advice would you give to those considering studying in the USA?
"Keep an open mind. There are a lot of different options and I think some people can come into it with a closed-off mindset of exactly what they want and it can be hard for them to understand and accept the other options. I think sometimes people are also guilty of only thinking about the athletic side and don't realise that there are huge gains to be made from being a good student academically, so if you go in with good grades and work hard to achieve a great SAT score, you're setting yourself up to get a better academic scholarship and realistically that can make certain opportunities a lot more affordable and accessible".
"Academics can play a massive role in making your dreams a reality".
As the world's leading scholarships consultancy, FirstPoint USA has a dedicated team of specialist talent management consultants who have assisted thousands of young athletes to propel their athletic and academic careers through successful partnerships with top U.S institutions. In addition to this, we also have robust processes and support tools in place to help you understand the intricacies of your scholarship options, so we're with you every step of the way.
For more information on the life-changing opportunities for young men and women that a sports scholarship in the USA can provide, why not schedule a call with one of our specialist consultants today.
---
FirstPoint USA is an international scouting service, providing recruitment services to hundreds of NCAA, NAIA, and NJCAA member institutions seeking to identify the very best in overseas talent, both male and female.
The company was founded in 2001 by former University of Cincinnati All-American and Hall of Fame inductee, Andrew Kean, and evaluates over 100,000 prospective student-athletes, competing in over 20 different sports, across 187 countries each year.