FirstPoint USA is delighted to announce the appointment of former Inverness Caledonian Thistle defender, Stuart McCaffrey as Director of Football, providing support to young footballers from Scotland, the UK and beyond in his new role with the business.
The 43-year-old, who began his career as a trainee at Scottish Premiership club Hibernian and then Aberdeen, will lead our wide portfolio of football activities across the men's and women's game both within the UK and Internationally.
With an impressive CV both on and off the pitch, former Scottish youth internationalist, Stuart, enjoyed great success during eight seasons in Inverness and also played for St Johnstone and Greenock Morton. He completed his UEFA A License in 2010 however it was his move into the role as chairman of PFA Scotland that signaled his interest in the business side of the game.
Having hung up his boots through injury, he made the switch to Chief Operating Officer for the Scottish Football Partnership & Trust, leading stakeholder engagement with clubs, governing bodies and funders and establishing an excellent network across the industry, from grassroots to the professional game. Stuart has also studied with the Open University and completed a Management in Football Diploma at Napier University in 2020.
Upon his appointment, Stuart said: "I'm thrilled to join FirstPoint USA and looking forward to working with a team of really talented people. The motivation for me is to help FirstPoint further grow the unique offering they provide and to add to that team who deliver incredible, life-changing opportunities on a daily basis. I can provide a different perspective to the wider team who have had an experience I've not had, a US sports scholarship, while I've had experiences and challenges they haven't – that builds a full picture for prospective student-athletes when we are talking to them.
"It's quite natural for me to relate to where young footballers are when we speak to them, I'll be able to sense the aspiration in them as a young player, and also the feelings of their family, because I was that person at their age. I'm looking forward to talking to players, parents, coaches and clubs to increase awareness of this amazing opportunity."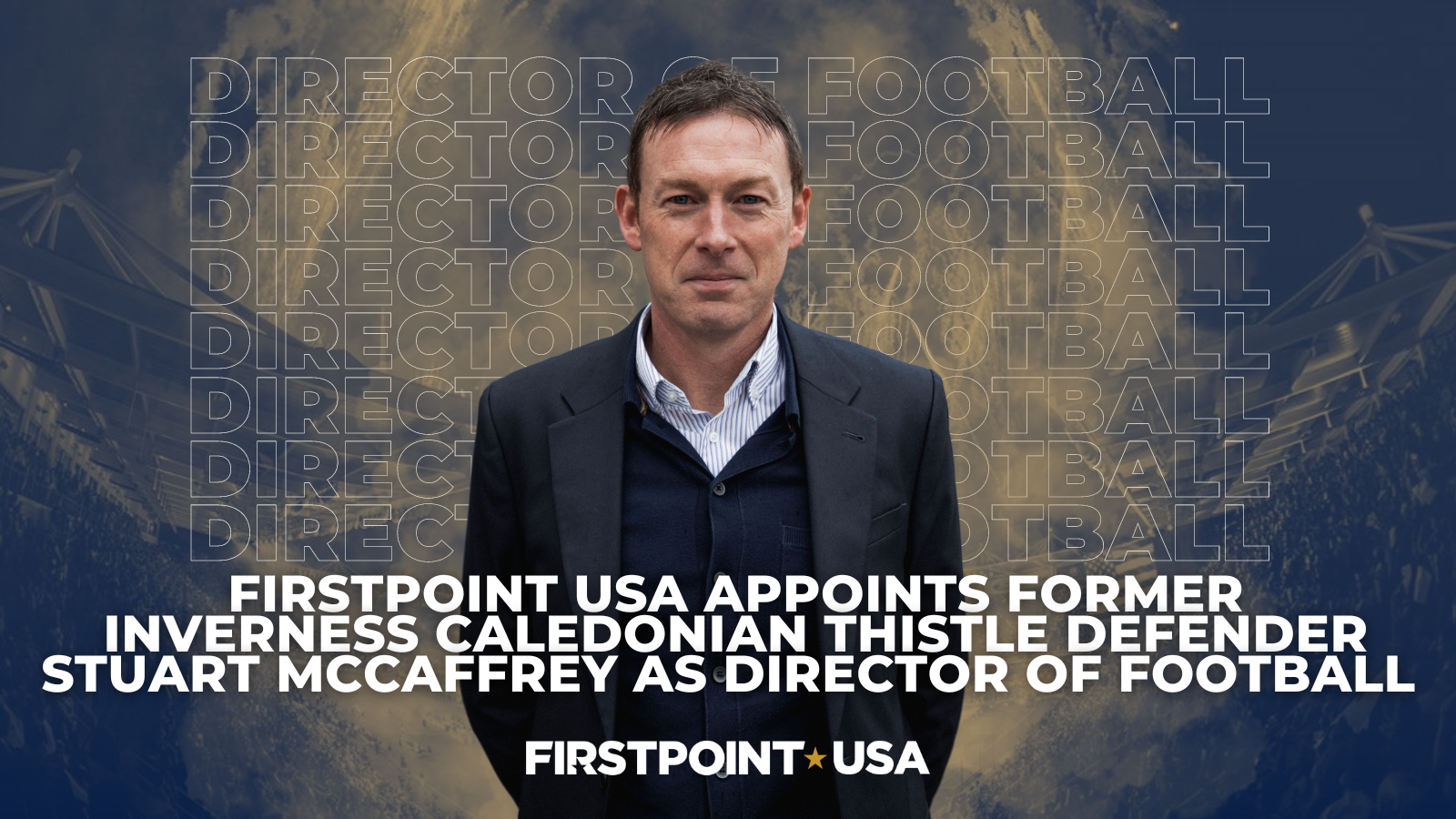 Stuart enjoyed a successful professional football career after leaving Aberdeen, recovering from injury to thrive in Inverness, but admits that come the end of his playing days he reflected that studying at a younger age would only have been beneficial.
He continued: "You come to 31, 32, your career is coming to an end, and you say to yourself: I wish I'd gone to university. It would be interesting if you surveyed a lot of players at that age, even though they've had a good time as a pro, I'm sure many would say the same thing.
"Ultimately my role here, working with the team, is to help players – in football and other sports – think ahead and be ready for what comes next, and for many of them combining education and sport will be the very best decision they can make to prepare them for their future. A real key interest for me within this is girls and women's football, I think we can build upon what we are already doing and really expand our reach and there are some unbelievable opportunities for girls to use a scholarship as a dual career path. What a brilliant way for young players to progress."
FirstPoint's portfolio of former football clients include England striker Jamie Vardy, current Rangers Women's captain Kathryn Hill and LA Galaxy defender Liam Doyle, as well as ex-Rangers and current Crystal Palace midfielder Kirsten Reilly. FirstPoint USA are also official partners of PFA Scotland, League Football Education in England and sponsors of Partick Thistle FC.
Stuart's arrival to strengthen FirstPoint's team follows the recent appointment of former Scotland captain John Barclay as Director of Rugby, and Northern Irish track and field coach and former athlete Laura Kerr as Associate Director of Athletics.
Andrew Kean, founder and CEO of FirstPoint USA, said: "I'm really pleased to have Stuart on board as our new Director of Football, which is a hugely important role at FirstPoint USA with such tremendous numbers of our student-athletes continuing to join soccer programmes in the States.
"Stuart is very well respected and connected in Scotland and across the UK, with a vast network of contacts at football clubs and academies. Everyone at FirstPoint is excited to welcome him to the team and work together to help us provide life-changing opportunities to more people than ever before, while further strengthening our many football partnerships."
As the world's leading sports scholarship consultancy, we have over 20 years of experience in recruiting and placing talented international athletes in some of the top programs in the United States, with world-class facilities to rival anywhere else across the globe.
FirstPoint USA has a dedicated team of specialist talent management consultants who have assisted thousands of young athletes to propel their athletic and academic careers through successful partnerships with top U.S institutions. In addition to this, we also have robust processes and support tools in place to help you understand the intricacies of your scholarship options, so we're with you every step of the way.
For more information on the life-changing opportunities for young men and women that an athletic scholarship in the USA can provide, why not get in touch with one of our specialist sports consultants today: Sports Scholarships | FirstPoint USA | FirstPoint USA
---
To sign-up for one of FirstPoint USA's forthcoming football trials across the UK in Glasgow, Manchester, Sheffield, Birmingham or London, visit: https://www.firstpointusa.com/our-service/soccer-trials/