FirstPoint USA, the world's leading sports scholarship agency, are joining forces with one of the country's biggest youth football clubs, with Edinburgh South CFC becoming the latest organisation to support players through the US student-athlete pathway.
The community club, based at Inch Park in Scotland's capital, boast more than 1000 players across its different age groups, compete in a number of SYFA leagues in the south-east of the country, and have one of the most impressive community programmes in the region. The club also has the proud distinction of having a platinum level quality mark, with Spartans the only other club in the region having similar status.
Paul Doig, the Club's Head of Community Coaching, welcomed the new partnership:
"Edinburgh South CFC are excited about this new partnership with and we're really looking forward to working with the team at FirstPoint USA. Not only does it allow us to signpost players to continue on a football journey, but it enables players to continue with higher education in some amazing states and academic programmes.
For the club, being a partner with FirstPoint USA also raises our profile, working with the leading company in the industry who are so well connected with university coaches across the US. It also means we can provide insights to those players looking for life-changing opportunities in the USA, backed up with FirstPoint's experienced team of staff."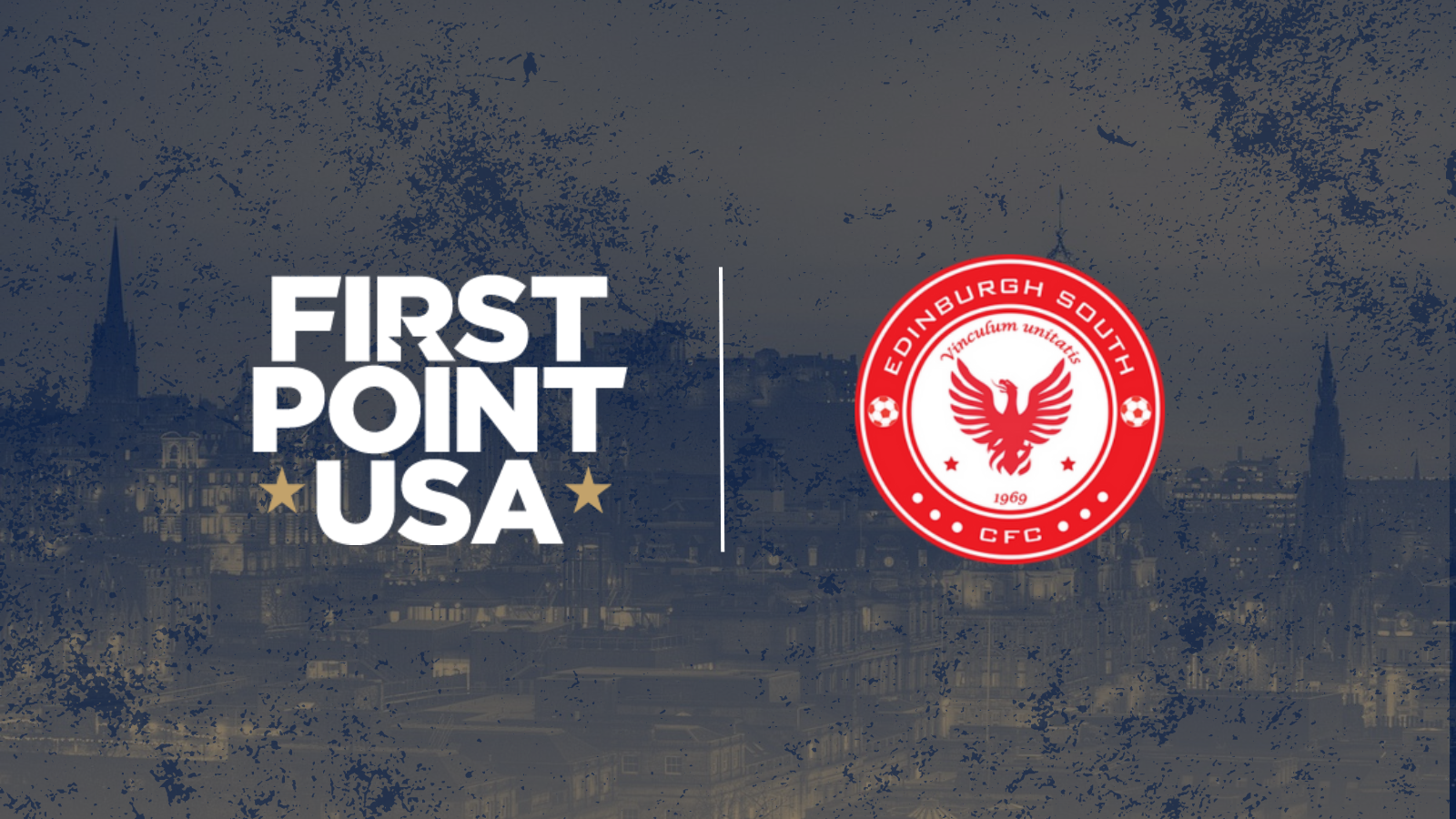 The partnership with Edinburgh South CFC is the first of its kind for FirstPoint USA, adding to its portfolio of professional clubs, which includes the likes of Fulham, QPR, Ross County and Partick Thistle. The company also works with a number of football governing bodies, with academy players from the Football League in England and PFA Scotland benefiting from FirstPoint USA's support services.
"It's an exciting time to be at the club, especially for our 15 – 19-year-old players, who I'm sure will be interested in what US colleges and universities have to offer."
Stuart McCaffrey, Director of Football for FirstPoint USA, added:
"We're delighted to be working with Paul and his team at Edinburgh South, who do a wonderful job in developing talented young players across their community. The scale of the Club is very impressive, and we are happy to be on hand to support any player who is keen to explore the option of combining football with studying in the USA.
"Having recently announced a partnership with Scottish Women's Football, we are keen to support football at the grass roots level in Scotland and welcome the opportunity to speak to other community clubs who have aspiring players and may have the States in mind. A football scholarship provides a unique opportunity, whether you progress to making it into professional football or choose a more academic route for your career, and you only have to look at the increasing number of male and female players who have benefited from the US system."
Through the partnership, FirstPoint USA will be delivering a series of insight presentations to Edinburgh South CFC's players, while opening up opportunities for players to attend US sports scholarship assessment trials, with events being held in Edinburgh and Glasgow later this month.
For any Edinburgh South CFC players who would like to find out more about US sports scholarship opportunities, please use the link below to register.
https://www.firstpointusa.com/partner/edinburghsouth/
---
FirstPoint USA is an international scouting service, providing recruitment services to hundreds of NCAA, NAIA, and NJCAA member institutions seeking to identify the very best in overseas talent, both male and female.
The company was founded in 2001 by former University of Cincinnati All-American and Hall of Fame inductee, Andrew Kean, and evaluates over 100,000 prospective student-athletes, competing in over 20 different sports, across 187 countries each year.