The FirstPoint team is always happy to answer any questions about studying in the US, but here are the things we're most often asked.
A 'full' or '100%' scholarship covers the cost of tuition, room, board, books and sports related clothing & equipment.
Travel to and from America in addition to the cost of the social aspect of living in America will be funded by the student-athlete and not the university.
Foreseeing the monetary value of the scholarship that could be offered is something that is almost impossible to predict. In addition to academic results, SAT test scores, timing, available budgets, and the coaches perspective of the individual's playing ability – the college coach is the only one who could say to a prospective student athlete that they will receive 'a full scholarship'. FirstPoint USA cannot and do not guarantee the ultimate level of scholarship award made to our clients.
It would be the responsibility of the student-athlete and his/her family to cover the remaining costs to attend the university.
It is highly likely that you will be required to contribute towards your 1st, 2nd, 3rd, or 4th years at university in the USA. As a result, it would be worthwhile to consider what, if any, level of financial contribution you could potentially afford to make towards fees not covered within the scholarship. The average contribution figure for FirstPoint USA clients in 2010/2011 was approximately $7,500 for the first year (remember, this does not include flights, insurance and social spending etc).
Only the student athlete and his/her parents will decide whether a scholarship offer is financially viable for them, and no one is obliged to commit to any scholarship offer.
If the injury was one that stopped a client from playing their sport, then a letter from their GP would be requested to explain the extent of the injury. At this time, a refund would be considered and calculated based on what stage of the service the client was being withdrawn. However, if it was found that the injury was either pre-existing, or had no bearing on the client's opportunity to compete then this would be reviewed on a case-by-case basis. The general rule of thumb is that after 14 days with us, as a client, the real expense and expertise of the service is being rolled-out, and refunds are typically not considered for anything not regarded 'exceptional circumstances'.
In the UK there are excellent universities, good universities, average universities and poor universities. The value of the degree from each will vary dramatically. The US is no different, however with the country being so big there are naturally many more 'tier one' academic institutions to choose from compared to anywhere else in the world. At present, the United States has 13 of its universities ranked in 'The Times World Top 25 Universities', including Harvard - holding the No.1 spot. This compares to the UK, having 5 universities ranked amongst the best, and Australia only having 1. Students will typically attend a university which matches their academic abilities and credentials to date.
The number of colleges that the Clearing Dept will consider promoting an athlete to is based on many influencing factors. It is essential that any college that fits the client's academic, athletic, financial and social needs is short-listed so to ensure that every opportunity is explored. Some of our clients will be marketed to no more than a select handful of colleges, whereas others will be promoted to as many as 400+ colleges and universities. It all depends on the individual and their needs and abilities.
The following are a list of costs that are not included within FirstPoint's service fee that may be worth consideration. Please note, that not all will be applicable to you:
| | |
| --- | --- |
| ITEM | APPROXIMATE COSTS |
| Flights to the USA | £500 (per year) |
| The SAT Exam | £78 (one-off) |
| F1 Student Visa | £280 (one-off) |
| Health Insurance | £350 (per year) |
| NCAA or NAIA Eligibility Centre | £80 (one-off) |
| Social Costs (Cinema, Shopping, etc) | £TBC |
| TOEFL *(for non-UK nationals) | £150 (one-off) |
| Tuition & Fees *(if on partial scholarship) | £TBC |
We would always encourage each athlete to give the experience an entire year before making the decision whether they liked it or not. However if someone was so unhappy in the US that there was really no changing their outlook, then they are always free to come home. Homesickness is natural and it affects most people – you can work through it though, and your coach, team mates and family can play a part in helping you get through it. If you did decide to leave, it would of course leave the college, coach and our staff disappointed but ultimately, you are in control of your own destiny.
The NCAA stands for National Collegiate Athletic Association. They are the organization responsible for overseeing the college sports competitions at over 1,200 college athletic departments. The NCAA is "committed to the student-athlete and to govern competition in a fair, safe, inclusive and sportsmanlike manner."
This is the opportunity for coaches to get to know you and for you to get to know the coaches and the school. Coaches will need to see footage of you in your sport; your academic information and they will want to communicate and get to know you. You will want to learn more about each coach and what life is like at their University.
The start of the recruiting process is different for athletes and college coaches. Many college coaches are recruiting from classes a couple of years in advance. There are so many athletes who don't realise this, and they keep waiting to get contacted by those coaches. The truth is that they won't find you unless you are in the top 1% of your sport- in the entire country. That is why you should start preparing for the recruiting process as soon as you enter high school.
For many prospective student-athletes, the recruiting process officially ends when you sign the NLI. The NLI is the National Letter of Intent. Once an athlete signs an NLI, they have committed themselves to that school for at least a full academic year. This also means that the athlete can no longer be recruited by other college coaches, thus ending the recruiting process.
Many athletes enter into verbal agreements with schools as well. Because verbal agreements are non-committal, entering into one does not end the recruiting process for an athlete. In a verbal agreement, the coach and the athlete both have the option to back out of the agreement because it is not considered binding or official.
The NCAA publishes an annual guide for high school student-athletes who are interested in pursuing sports in college. The guide focuses on what you need to become eligible at an NCAA school, including academic requirements and resources you can use to become eligible. The NCAA writes this guide for athletes, parents/guardians, and for high school administrators.
The Guide for the College Bound Student-Athlete outlines the requirements to become eligible in the NCAA. The NCAA wants to make the eligibility process as easy as possible and has made this guide available to you to help answer questions. It is there to assist you in the initial eligibility process and to help you prepare for collegiate athletics.
The guide covers the academic requirements for each student-athlete, including core courses, GPA, test scores, and special conditions. The guide also covers the amateurism rules, registering for the NCAA Eligibility Center, financial aid opportunities, recruiting information, and provides checklists and steps you need to take in order to become eligible
You can access the NCAA Guide for the College Bound Student-Athlete here.
Yes, for most sports a recruiting video is crucial for a college coach to evaluate you as an athlete. For many coaches, this is a required aspect of any recruiting resume, if they are going to take any interest in you. Some sports, like swimming, track, and rowing, rely more on event times and meeting results, rather than video. But it is always highly recommended to have some sort of video footage, in case a coach wants to see it.
Having a highlight video or game footage is very important to college coaches, and unless you make it very easy for them to view, you are not going to have a successful recruiting effort. Having video ready allows coaches to be able to watch you play without having to spend money on travel. What they see in your video will help them determine whether or not they want to come and evaluate you in person.
It's not enough to send a coach a sheet of your statistics from your season, they need to be able to see your technique, physicality, and skills and the only way to do that is with video.
A coach isn't going to recruit an athlete that they haven't been able to see play.
The minimum requirements are different depending on what level you are going to be competing. The eligibility requirements do not mean you are guaranteed admission into college and often times you will need higher grades to get into college. See related questions for the requirements at the specific levels.
For athletes graduating in 2013 you will need: 4 years of English, 3 years of Math, 2 years of Science, 1 extra year of Science or English, 4 years of extra course in any of the above subjects or Foreign Language, non-Doctrinal Religion or Philosophy.
In order to be academically eligible to compete in the NAIA, you have to meet certain requirements set forth by the NAIA Eligibility Center. The NAIA's academic requirements are different than the NCAA requirements, so make sure that you don't get them confused.
In order to be eligible for the NAIA as in incoming freshman, you need to meet two of the three following criteria:
A minimum score of 18 on the Enhanced ACT or 860 on the SAT (for tests taken on or after April 1, 1995).

An overall high school grade point average of 2.000 or higher on a 4.000 scale.

Graduate in the upper half of the student's high school graduating class.
The NJCAA has certain academic requirements you must meet in order to compete for any of their member schools. These requirements are different than both the NCAA and NAIA qualifications, and tend to be less complex at the NJCAA levels.
To meet the NJCAA academic requirements, you need to graduate from high school or receive your GED equivalent that can be approved by the NJCAA Eligibility Center. If you did not graduate from high school, you can become eligible by completing a term of college courses, 12 credits with a 1.75 GPA or higher.
"How good do I need to be to get a sports scholarship" The athletic skill level of college athletes varies between division levels. Division 1 sports are highly competitive so any athletes at this level are top-tier competitors. Division 2, 3, and NAIA are a bit less so, but all college sports require a certain ability level.
If you are dedicated, hard-working, and a good student, you already have a chance to find a scholarship opportunity at the collegiate level.
There are a lot of different things that coaches look for in scholarship athletes. In order to determine where you could possibly compete, it would be a good idea to get evaluated.
You can go to a camp or combine and get your stats and times verified by a competent third-party.
When you start researching colleges, there are a lot of things to take into consideration. Based on your grades and test scores, where can you apply? As a family, what can you afford for tuition? As an athlete, what level can you compete and succeed at? These are important questions that can help you get started as you look for possible schools. Remember: where you end up attending college can have a huge impact on the rest of your life, so make sure you are finding the best fit for you, both athletically and academically.
Here are some other things to consider when you are looking into schools:
Does the school have your major? What you want to study and get your degree in should have the most impact when choosing your college.

Where is the school located? Think about the climate/weather and distance from home, family, and friends…this can affect how happy you are at a school.

Do you like the coach/team/athletic department there? If you want to compete in college, how much you enjoy your athlete experience is an important aspect to consider.

Do you see yourself at this school if you couldn't participate on a team? Things happen in college and many athletes don't play all four years on their college team, so it's crucial to be able to finish your degree and still be happy if you can't play.
The tests you need to take depend on what collegiate level you want to play. NCAA Divisions 1 and 2 require that you take either the SAT or the ACT. For D1 and D2 schools, the NCAA Eligibility Center uses a sliding scale to see if your standardized test score is high enough.
The minimum SAT score to be eligible for combined critical reading and math is a 400, accompanied by a 3.55 and above GPA.
The NCAA doesn't look at the critical writing section to decide eligibility, however most individual schools do consider it during the admissions process.
Just because you're declared eligible by the Eligibility Center doesn't mean you'll gain admission to a college or be recruited.
Individual institutions and conferences set eligibility standards at the NCAA Division 3 level. You may be able to find schools that don't require a standardized test, but you'll severely limit your options.
The NAIA determines academic eligibility by looking at your GPA, class rank, and standardized test scores, the SAT or ACT. To be declared eligible to compete at an NAIA school you must hit a specified mark in two out of three of those categories: a 2.0 GPA on a 4.0 scale, finish ranked in the top 50% of your high school class, or score above a combined 860 on the reading and writing portions of the SAT or score an 18 on the Enhanced ACT.
Remember, an SAT or ACT score may not be necessary to be eligible, but not taking it may reduce your school options.
If you're an international student from a non-native English speaking country you'll be required to take the TOEFL exam. The TOEFL exam evaluates a student's ability to read and write in English.
This is the top level of athletic competition at the college level. These are typically larger schools with the best athletes.
This is the second level of athletic competition at the college level. The best DII athletes are comparable to the best athletes at the DI level but choose DII because the school is a better fit.
This is the third level in NCAA athletics. Athletes here are typically looking for smaller schools and the opportunity to continue to compete in their sport. DIII schools do not offer athletic scholarships but they can offer other forms of financial aid. The best DIII athletes can usually play at the DII level.
The National Association of Intercollegiate Athletics is the organizing body that oversees college athletics for its member schools. Schools who are members of the NAIA are made of smaller colleges located in the United States and Canada. The NAIA was established in 1952, as an organization to establish competition between colleges. The NAIA sponsors 13 different sports and runs 23 annual championships for those sports, in both men's and women's athletics.
The NAIA has different member schools than the NCAA, and have different Eligibility requirements as well. To make sure you are eligible to compete at an NAIA school, you need to register with the NAIA Eligibility Center.
The National Junior College Athletic Association is the organization that facilitates the sports and athletes at the Junior College/Community College level. The NJCAA is comprised of 525 schools in 24 regions in the United States, and has three division levels: I, II, and III. Similar to the NCAA and NAIA, the NJCAA was organized to supervise collegiate sports at its member schools.
Many high school athletes are not familiar with the NJCAA since it gets over shadowed by the larger groups NCAA and NAIA. But junior colleges and community colleges offer high school students great opportunities. In addition to being able to go to school and earn a more affordable associates degree, students can also participate in collegiate sports and find transfer opportunities at larger schools when they are ready.
These are awarded to students who are going to compete on behalf of the school in sanctioned athletic competitions. You are not guaranteed a scholarship if you are going to play sports at your school. The possibility and amounts of each scholarship depend on the team and University.
Scholarships vary from a full-ride, covering all costs associated with school and living, to a small portion of costs for school. Full-ride scholarships are very rare, and typically, coaches expect athletes to pay for some part of their education.
Sports scholarships are given on a yearly basis. Many athletes and their families make the mistake of believing that athletic scholarships last all four years of college, but that's not true.
It means that they award you financial aid one year at a time.
At the end of each year, scholarships are renewed by the coach and athletic department, provided that you remain eligible throughout the year.
You are allowed to be on athletic scholarships for up to five years in your college career. Coaches are able to adjust the amount of the scholarship at the end of each year when it expires. That means they can increase, decrease, or get canceled altogether.
In order to make sure that you maintain your good status and keep your scholarship, you need to make sure you do what is expected of you. As a student-athlete, that means keeping up in your classes, getting good grades, training and contributing to your team.
If for some reason you become ineligible in any way, the coach has full right to give your scholarship away to someone else.
Yes, it is possible to lose your athletic scholarship. Generally, it is difficult to do so because coaches don't want to get a reputation for pulling scholarships, but it is still possible. Athletic scholarships are yearly contracts signed by the athlete and the school; they are not four-year guarantees. That means that the coach has the ability to decrease the amount or cancel it altogether if you do not meet the requirements for the scholarship.
There are several ways to lose your athletic scholarship from a college.
You can become ineligible academically by not keeping a GPA higher than 2.0, or committing a violation of student code that required disciplinary action.
College athletes can also violate NCAA rules regarding their amateurism or by accepting monetary gifts from boosters or people affiliated with the university.
You can also violate the terms of the athletic scholarship by not fulfilling certain obligations required by the contract.
For all of these reasons it is so important to know the exact terms of the agreement you are signing. This way, you know exactly what you need to do to keep your athletic scholarship and avoid the trouble of losing any financial aid.
You are able to transfer from one college to another so long as you have earned at least 24 credit hours at the initial university you attended. If you were to transfer more than on one occasion during your college career then you will be asked to sit-out a full year of competition in order to regain your eligibility. Acceptance of college credit from one university to another will be decided by the admissions office at the receiving university. There is a chance that not all credits will be transferable and these cases are reviewed on a case-by-case basis.
Student athletes are also eligible for academic scholarships if their grades and test scores qualify. Academic scholarships become great opportunities for athletes if they're not able to secure an athletic scholarship or they need more financial aid in addition to a smaller athletic scholarship package. To earn an academic scholarship, you need to have strong grades and test scores. Each university has different measures for their academic scholarship requirements, so once you start speaking with college coaches, you can ask if your grades qualify for academic money
High school athletes should register for the NCAA Clearinghouse (now called the Eligibility Center) at the beginning of their junior year. However, everyone has a different recruiting experience, so some might register earlier, some later. Ultimately, only athletes who are going to compete at the Division 1 and 2 levels need to register with the NCAA Eligibility Center.
It's a good idea to start conversations with college coaches at programs you're interested in before you register for the NCAA Clearinghouse. This is to confirm that you do have interest from either D1 or D2 schools before you spend unnecessary time and money to register.
When you do register, a college coach will need to ask that your profile be placed on the Institutional Request List (IRL). College coaches use the NCAA Eligibility Center to verify your academics and your amateurism. Only when a coach does this will your information be processed. Also, until you register with the Clearinghouse, you will not be allowed to go on official visits to schools or receive official scholarship offers.
A student-athlete can go on an unofficial visit at any time, but they are limited to five official visits to NCAA Division 1 and 2 schools. On an unofficial visit, athletes pay for all costs. Coaches or athletic departments pay some or all of the costs of an official visit. The only thing that can be paid for on an unofficial visit is three tickets to an athletic event.
If a school pays for anything else, such as food, lodging, or travel expenses, then the visit will count as an official visit.
Unlike unofficial visits, which an athlete can go on at any time, an official visit must be taken during the athlete's senior year. Also, a coach will have to offer to bring you on an official visit; there is no other way to sign up to take them. It's a good idea to start taking unofficial visits to local schools, so an athlete can get a feel for visiting colleges. By doing this, they will be prepared for official visits, or more costly unofficial visits to schools that are not close to home. It's important to be prepared for a visit so you're not wasting your time or the coach's time.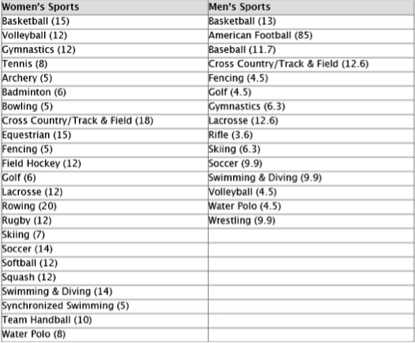 NCAA Division II scholarships by sport: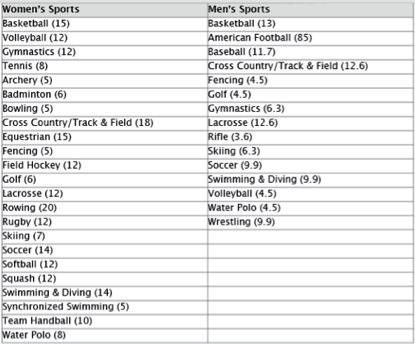 Many of FirstPoint USA's clients will dream of being professional athletes and pursue college athletics to make it happen. Below is data estimated from the NCAA that compares participation rates of six sports and the percentage of students that achieve their goal of participating in college athletics and then professional sports.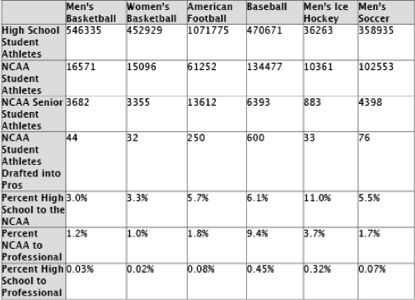 Registering for the Clearinghouse, now called the Eligibility Center, does not get you noticed or recruited by coaches. All the Eligibility Center does is allows coaches to easily find out if you are academically and athletically eligible to compete at the National Collegiate Athletic Association Division I or 2 level. It is not necessary to register for the Eligibility Center if you are going to play at the NCAA Division 3 level.
Coaches will need your Eligibility Center number to find out if you are eligible to compete. Once you are assigned a number you must have a coach request your information from the Eligibility Center for your eligibility status to be reviewed and completed.
Many athletes just register with the Eligibility Center and expect to be recruited, this will not happen. The Eligibility Center costs $65 for US students and $95 for international students. You should register when you know that a coach from a D1 or D2 level is interested in you, otherwise you are spending unnecessary money.
Whether or not you have your amateur status depends on multiple factors. For Division I, II, and III sports, the NCAA reviews nine different aspects of an athlete's profile to determine eligibility. Any violation of these nine factors may result in penalization or lose of eligibility with the NCAA.
Contracts with a professional team: Most of the time the NCAA will allow you to sign a contract with a professional team, as long as you're not receiving pay or benefits. However, they will closely review any contract you have signed with a pro team.
Salary for participating in athletics: To be declared an amateur, you cannot receive any salary for competing in athletics.
Prize money: The NCAA does not allow an athlete to earn money or prizes that are worth more than the cost of participating in an event. If you are not sure if your prize will violate NCAA rules, you are better off not accepting it.
Play with professionals: The NCAA will examine any time you have spent playing on a professional team or in professional competitions.
Tryouts, practice or competition with a professional team: If you have spent any time competing or trying out with professionals, regardless of whether you made the team or not, the NCAA will take a look at it to make sure you did not lose your amateur status.
Benefits from an agent or prospective agent: Amateur athletes may not have an agent. Sometimes agents try to get around this by offering benefits to athletes in hopes that they sign with them once they are done with college. Any contracts with an agent or benefits you have received from them will nullify your amateur status.
Agreement to be represented by an agent: As stated above, you are not allowed to sign any contracts to be represented by an agent.
Delayed initial full-time collegiate enrollment to participate in organized sports competition: The NCAA allows a 1-year grace period for enrollment after you graduate high school. After the one year period the NCAA may start taking away your eligibility. The NCAA allows you to have 5 seasons in which you can compete in 4. The fifth year is called a red-shirt year. A red-shirt year allows you to sit out a year of competition for various reasons, without losing one of your 4 years of competition.
Any financial assistance based on athletics or skills or participation: The NCAA does not allow you to benefit financially from your athletic skills or fame. This includes making money on autographs, free haircuts, and many other things. The National Association of Intercollegiate Athletics, or NAIA, allows only amateurs to compete in NAIA athletics. You will lose your amateur status for turning professional in a sport, but you will only lose amateur status in that sport.
Yes, you must be placed on the Institutional Request List, or an IRL, in order to receive an athletic scholarship and be eligible to compete at an NCAA Division I or 2 school. When you register for the NCAA Eligibility Center your eligibility is not reviewed until a coach asks the Eligibility Center to place you on the Institutional Request List.
If you are not receiving interest from Division 1 or 2 coaches then it is not necessary to register with the Eligibility Center immediately.
Once you have started receiving interest from Division 1 and 2 school you should begin the registration process. This includes answering questions about your academic and athletic history, and having your SAT or ACT scores and transcripts sent to the Eligibility Center.
Once you have completed the registration process you will be assigned an Eligibility Center number.
Your case will be reviewed and finalized once a coach uses your Eligibility Center number to request your information. Once a coach has requested you and your eligibility has been reviewed, you will either be cleared or deemed ineligible.
In order to be eligible to compete in college sports at the NCAA and NAIA levels, you will need to register with their respective Eligibility Centres at some point. It is recommended that you register as you enter your junior year only if you know for sure that you will be playing at either level. Make sure you know which division level you are able to compete at before you register for any Eligibility Centre; this will save you both time and money.
Being able to play your sport year-round has many advantages in the college recruiting process. College coaches want to see that you are dedicated enough to your sport that you continue to train year-round. It's not enough to be a part of your high school team anymore. Serious high school recruits are playing year-round with club and travel teams.
Depending on where you go to high school, you are limited in how you will get exposure to colleges. While it may be great to be the star of your high school team, if you aren't competing against other top schools or athletes, coaches will have a difficult time knowing how you will fit in at the college level.
Signing up for a club or travel team allows you new opportunities for more experience in high level competition. Most club teams require a fee, which means those willing to pay to be a part of the team are also serious about the sport and dedicated to the team. Playing for a club team means you are competing during your high school team's off season. Working on your athletic skills and staying in shape throughout the year will help you maintain your strengths and help develop your weaknesses.
Joining a club team also gives you an opportunity to work with other coaches who can give you new insights into your game and help you grow stronger as a player. Playing your sport year-round is very beneficial and college coaches look favorably upon high school athletes who commit to doing so.
While all colleges and universities offer different kinds of scholarships, they don't all have athletic scholarships.
Only NCAA Division 1 and 2, NAIA and NJCAA schools can offer scholarships to incoming athletes.
However, Ivy League schools and NCAA Division 3 schools do not have athletic scholarships. These programs use financial aid from other parts of the university, but not from the athletic department.
While not all of the schools you're interested in can offer you an athletic scholarship there are other types of scholarships you can earn if you qualify.
These include academic and merit-based scholarships. That's why it's important to get your GPA as high as you can and do well on the SAT and ACT.
Being a strong student and athlete will help you find more college opportunities and get financial aid. Make sure you work hard to be a well-rounded student athlete; college coaches are only interested in athletes who succeed in both the classroom and on the field.
It is possible to earn an athletic scholarship for more than one sport. It doesn't happen very often, especially at the NCAA Division I level. There are more athletes who compete in more than one sport at the Division 2, 3, and NAIA levels.
Having the skill and flexibility to compete in multiple sports in high school is very attractive to college coaches. You have a wider variation of physical strengths and techniques and are trained to be in competition for a majority of the year. However, being involved in more than one sport is also time-consuming, which means you need to have strong time-management skills.
Succeeding in school is much more important than dominating in multiple sports. High school athletes also need to be aware of their physical and mental limits. There is more stress for athletes in multiple sports. If an athlete struggles with the balance, his performance may suffer in his sport and in the classroom.
As a high school recruit, it's a great benefit to participate in multiple sports. In some cases, a student-athlete may have to choose just one if they want to be able to focus on their development.
Make sure to take the time to think about which sport you love the most, even if you are better in another. Without the passion to play, the rigorous schedule of competition in college won't be a fulfilling experience for an athlete.
There are thousands of opportunities to compete at the college level so there's a chance you may be good enough to get one of them. College coaches look for potential student-athletes who are strong in athletics and academics.
To qualify for a college academic scholarship, you will need to meet certain requirements. While these specific requirements will vary with each school, the idea is the same. If you work hard and maintain a high GPA and do well on the SAT/ACT, then you could be rewarded with an academic scholarship. Per the NCAA you need a minimum 2.0 GPA and a 1010 on the SAT as well as a combined score of 86 on the ACT. These requirements are on a sliding scale, so if you have a higher GPA then your test scores can be relatively low.
College coaches want to see that you are a strong athlete and student. In addition to earning an athletic scholarship, you could also earn some academic financial aid if the coach thinks you meet the institution's requirements.
If you think you might qualify to earn an academic scholarship, do some research at the schools that you have applied to or plan on applying to. You can only earn a scholarship from the school if you have applied and been accepted. You can also talk to the coach and see if they might be able to add an academic scholarship to your financial aid package.
To earn an athletic scholarship, there are several things that college coaches are looking for. They want to recruit student-athletes who are dedicated, team-oriented, strong, and successful. But of course, college coaches will also want to recruit high school athletes with great physical attributes and mastered athletic skills.
The athletic scholarship requirements vary with each institution and with each sport. College coaches all have their own guidelines and stats to sift through the hundreds of recruits who contact them with interest in their program.
There are no refunds available after you have registered for the NCAA Eligibility Center. Once you have submitted payment, your registration is final and will not be considered for withdrawal.
If for some reason you decide not to attend a Division 1 or 2 institution and don't need the registration anymore, it is still considered final and won't be open for discussion. The only exception for a refund is if a duplicate payment or registration was made by accident, so the duplicate fee will be reimbursed.
To avoid this situation, make sure you know what schools you are interested in and whether or not you will need to register to play at those schools. NCAA Division 3 schools do not require you to be cleared by the Eligibility Center (Clearinghouse), so it's important to take some time to consider what level you might be able to play at.
NAIA schools require registration at a completely different Eligibility Center as well, so it's a good idea to consider your options.
If you've been contacted by a college coach or program, you probably think that you're on your way to being recruited to compete in college.
You may be right, but it depends on how you've been contacted.
If you received a typed letter from a program or coach, it probably doesn't mean much. College sports programs send out hundreds of letters like this to other high school athletes. It's their way to gain your interest in their university. If you get a handwritten letter, it's a better sign that they're interested in you, but again, they send a lot of those out to high school students. Once you start getting emails and calls directly from coaches, then you know you're being actively recruited.
The length of the recruiting process is different for every student athlete.
Ideally, you should start the recruiting process as soon as your 1st year in High School. There is a ton of information to know about the recruiting process so being prepared once you start high school is a good idea.
Doing research or obtaining the help of a recruiting service are both great ways to help you get ready for the recruiting process as you enter high school.
Start by scheduling the core courses you need to be eligible for the NCAA. Once you have your classes set, start researching colleges you're interested in.
You'll also want to put together a resume that highlights your athletic and academic accolades, with a recruiting video and a short cover letter telling the coach why you're interested in their program. Then start contacting coaches and sending them your resume.
This is a binding contract between you and the school for one year. Once you have signed this contract you are committed to that school for one year and you are no longer eligible to sign with a different program.
More information is available here
You are bound to the agreement signed with the NLI. If you do not honor your NLI you lose one year of Eligibility and must serve one year's residence at your next NLI institution before receiving a scholarship.
Yes, you can sign an NLI with one school, and then go play for another if they're not part of the NLI program.
When you sign an NLI, you are committing yourself to that school for at least one school year. In exchange, you're being awarded financial aid in the form of an athletic or academic scholarship. Once a high school athlete signs an NLI, the recruiting process ends for them. No other college coaches can continue to recruit them after they have signed an NLI with another school.
With that being said, it's important to make sure that you're comfortable with the decision that you're making; if you do sign an NLI with one school, you can make the choice to play on a team at another college as long as that school is a non-NLI program.
Yes. If you are receiving athletic financial aid from that school you can sign an NLI. Be advised NLI's at the Junior College level are binding for two years.
When an institution sends you an NLI, it will be during the signing period for your sport. You have a certain amount of days to sign it and return it to that school.
When you sign your NLI, you should make sure you sign it in duplicate.
Then you keep one copy and send the other back to the college. It's always a good idea to keep a duplicate copy for your records in case something happens to the copy you try to send back.
There are a few different ways to submit your NLI. Many coaches prefer to send their athletes the NLI by email. Then the athlete can print it out and sign it. To return the signed copy to the school, you can do one of three things:
1) Fold it up and mail it to the coach,
2) fax it to the coach, or
3) scan it back into the computer and email it to the coach.
It's always a good idea to send the coach a hard copy though, in addition to a fax or an electronic submission.
No, you will not sign an NLI as a walk-on. Walk-on athletes are non-scholarship team members so an NLI is not required. An NLI is only considered valid when it is accompanied by a financial aid award letter issued from the school. So walk on athletes will not sign an NLI.
An athletic scholarship is a year-by-year contract which means a walk-on athlete could possibly earn a scholarship after their first year on the team. Walk on roster spots provide a great opportunity to many high school athletes who may not qualify for a scholarship or who attend a school that doesn't have athletic scholarships available. So make sure you consider all your options as opportunities; just because you aren't signing an NLI doesn't mean that you shouldn't join the team.
That depends on which institution you plan on attending. A verbal commitment is stating your intention to enroll in a particular school, and that school's promise to give you financial aid but it is not official. It is a non-binding oral agreement between you and the university. An NLI is an official binding agreement that you sign as a commitment to a school in exchange for financial aid. It is a binding agreement that you will attend that school for at least a year and cannot be recruited by another school.
Since a verbal commitment is not binding, it is possible for a student-athlete to verbally commit to one school but sign an NLI with another. This is because the NLI program doesn't recognize a verbal commitment. A high school athlete who has made a verbal commitment can still be recruited by other schools. An athlete who has signed an NLI cannot be recruited anymore. A school can also make a verbal agreement with a student then turn around and offer an NLI to another. It is important to recognize which agreement you have entered in and not lose out on a scholarship opportunity with another college.
While athletes are not required to sign a National Letter of Intent, or NLI, there are several reasons to do so. By signing an NLI, a high school athlete is committing themselves to a college program for at least a year in exchange for financial aid. Once an athlete signs an NLI, the recruiting process is essentially over. They have secured a roster position with a school and no longer speak with coaches from other programs (coaches are not allowed to contact a signed athlete).
Athletes who are enrolling in four-year colleges and universities sign NLIs as a part of the recruiting process. When a college coach offers an NLI to you, they are looking for you to commit yourself to their program and attend their school as a student-athlete on an athletic scholarship. If you are offered scholarships from multiple schools, it will be important to take some time and discuss which college will be the best fit for you. The college you decide to attend is a huge decision and will have an impact on the rest of your life. Remember: it's not just about playing your sport- you are there to earn a degree and establish a possible career path.
A prospective student athlete, or PSA, is any high school athlete that is getting recruited by college coaches. The NCAA officially gives this term to athletes when they enter ninth grade. It also is used when a college gives any financial aid or other benefits to an athlete before a student's 16th birthday.
Coaches who are interested in an athlete and the athlete is interested in their school, they become a PSA by communicating openly with that coach. High school athletes can be considered PSAs to multiple coaches, since there might be many colleges interested in that athlete.
You are allowed five years to compete four years. If you have experienced a season ending injury, medical or family emergency you can apply for an extra year of eligibility. This extra year is known as a Grayshirt.
You are allowed five years to compete four years at the college level. If you are eligible to compete but choose to sit out that year it is called you redshirt year.
Coaches cannot evaluate you nor have any in-person contact with you from outside of their college campus. You can visit a coach on their campus during this time. Coaches can write or call you during this time.
Our fee is for the provision of services including, but not exclusive to; pre-qualifying the academic & athletic eligibility of its clients and successfully guiding them through the entirety of the scholarship. As the company is not permitted to charge a fee for its services based solely on scholarship offers secured for our clients, our fee is charged in advance of our services commencing. (See NCAA rule 12.3 Use of Agents')
NCAA rules prohibit any company or individual from guaranteeing your successful placement at a American college or university with an athletic scholarship. NCAA rules state: "A prospective student-athlete may allow a scouting service or agent to distribute personal information to member institutions without jeopardizing his or her eligibility, provided the fee paid to such an agent is not based on placing the prospective student-athlete in a collegiate institution as a recipient of institutional financial aid." (see NCAA rule 12.3.3.1 'Talent Evaluation Services & Agents')
Our role is to pre-qualify your chances of receiving a sports scholarship, then guide you through the entirety of the recruitment process with suitable American colleges and universities. The company is not permitted to charge a fee for its services based on placing clients at American colleges with suitable sports scholarships. As a result, a refund would not be provided in cases where scholarships offered to clients were deemed 'unsuitable' by the client. NCAA rules state, "A prospective student-athlete may allow a scouting service or agent to distribute personal information to member institutions without jeopardizing his or her eligibility, provided the fee paid to such an agent is not based on placing the prospective student-athlete in a collegiate institution as a recipient of institutional financial aid." (see NCAA rule 12.3.3.1 'Talent Evaluation Services & Agents')
No. Having a professional agent is against NCAA rules (see NCAA rule 12.3.1 'Use of Agents') and having one could make you ineligible to compete in college sports. We do not provide services to professional athletes nor do we charge a fee based on the level of scholarship you receive. Our fees are solely for the guidance and advice we provide throughout the athletic recruitment process.
NCAA Division 1 colleges and universities are only permitted to work with scholarship agencies that are approved through the NCAA scouting service approval process.
The NCAA is recognised as the main governing body of American college sport. The association oversees 89 championships in 23 sports. There are more than 400,000 student-athletes competing in three divisions at over 1,000 colleges and universities within the NCAA.
The approval process was implemented by the NCAA national office, to ensure compliance with legislated requirements governing the elements required to permit an institution's subscription and interaction with scholarship agencies and their prospective athletes.
The National Association of Collegiate Esports (NACE) is the governing body of varsity esports, dedicated to the creation and support of college esports.
The TOEFL ("Test of English as a Foreign Language") is a standardized test that measures a test-taker's mastery of the English language. TOEFL scores are primarily used by universities as part of the admissions process. Typically, those who take the TOEFL want to attend university or graduate school abroad
IELTS means International English Language Testing System and it is a test of English language proficiency. The test is designed to assess the language ability of non-native speakers of English who intend to study or work where English is the language of communication.
It's your turn. Kickstart your scholarship journey today!