Track & Field Scholarships
For many athletes around the world, college Athletics in the United States has been a springboard to global success. Current college athletes collected no fewer than nineteen medals at the 2022 World Athletics Championships in Oregon, while 21% of all competing athletes – representing 71 countries – had competed for a US college at some point in their career.
College Track and Field has a long history of producing world class athletes. Baylor University is nicknamed 'Quarter Mile U' having nurtured the talent of 5-time NCAA champion and 400m legend Michael Johnson, as well as 4-time Olympic Medallist Jeremy Wariner. College programs give student athletes the opportunity to train daily on top-class campus facilities with full-time professional coaches alongside international team-mates.
There are over 1,000 colleges and universities with Track and Field programs and more than 2,000 with Cross Country programs. More than 330 NCAA DI universities have Women's Track & Field teams and they have 18 scholarships each available. Division 2 and NAIA colleges each have 12 Track and Field Scholarships for men and women.
Ivy League universities do not award athletic scholarships but provide financial aid through academic scholarships. A strong athletic background alongside excellent academics can assist with recruitment to an Ivy League university and many, including Harvard, Princeton and Penn State, have prestigious Track and Field programs.
Laura Kerr is Associate Director of Athletics at FirstPoint USA and is a former NCAA DI Javelin thrower and Great Britain International. Laura has 12 years' experience developing athletes and coaches and will support Track and Field and Cross Country Athletes, and their parents, to access the best possible range of scholarship offers.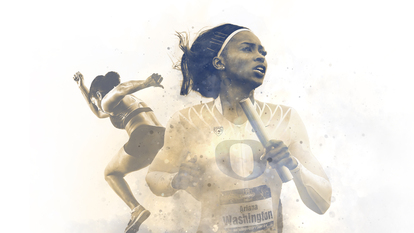 Academic and Sporting Preparation
Targeting University Programmes
Connecting with College Coaches
To date, we've sent over 35,000 young men and women to the US. Securing over £300 million in scholarship awards and finding a place for every single qualifying applicant.
Every year, thousands of student-athletes and their families come face-to-face with the difficult challenge of securing a scholarship to an American university. What they often discover is that navigating university options is stressful enough, and adding sports into the mix brings it to a whole new level.
Even for those who do a little recruiting homework, they are often left with more questions, very few simple answers and an uneasy feeling they are somehow falling behind.
At FirstPoint, we understand what you're going through. Many of us have experienced first-hand what the scholarship recruiting experience is like—as players and as coaches. And that experience, combined with our advanced online technology, expansive college coach network and proven recruiting methods, helps thousands of student-athletes and their families take control of their recruiting experience.
Whether you are a first-year high school student or a national ranked athlete, FirstPoint helps take the stress of uncertainty out of your scholarship journey by putting a plan in place to help you find your best university options in the USA.
HOW TO GET A
SPORTS Scholarship
What our Student-Athletes say about us "They've gone above and beyond "
Can't thank the guys at FirstPoint USA enough for helping my son get out to the US on a soccer scholarship. He's now in his second year in America and is loving it despite being homesick for the first few weeks! We spoke with multiple different companies before deciding which company to choose and although they weren't the cheapest, they've been with us every step of the way and only been a phone call or text message away if we had any issues. They never made any false promises or unrealistic expectations and delivered the service exactly as described. They've gone above and beyond to make sure we were well looked after every step of the way.
Sandra Mulhenny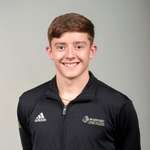 "I couldn't be happier"
I couldn't be happier with my experience working with Firstpoint USA. Having just graduated from university in South Carolina, I am so grateful for the life changing experience and opportunities that have been available to me as an NCAA DI student athlete. None of which would have been possible without the expertise and knowledge of the staff at Firstpoint USA. Would highly recommend FPUSA to anyone thinking about going to university in the USA
Josh Hendry "process has been made simple"
The FirstPointUSA team as a whole are excellent. The whole process has been made simple by their clear communication, especially Gemma Thomson who I worked with. The organisation in every aspect of their work is very good, and I would definitely recommend FirstPointUSA to anybody thinking about attaining a scholarship in the US..
Isaac Thomas
Frequently Asked Questions
College Track scholarships are awarded to athletes by the coaching staff of each program. Each year coaches evaluate their team's needs and use their scholarships to award their top performing athletes as well as try and attract new athletes. For this reason, most scholarships are partial scholarships as coaches are dividing their track scholarships up to attract several top athletes.
In order to be a scholarship-athlete you need to be able to come in and show potential early to be scoring points at the conference, regional and national level.
Unlike other college sports, coaches aren't watching hours of film and evaluating athletes at camps to know if they are going to be good enough for their team. Track and field is simple in the fact that either you can get the time, or you can't. That being said, each program has different needs and philosophies when it comes to awarding scholarship money. Unlike other college sports, most track coaches will be very upfront about what time you will need to make their team and to get a scholarship.
NCAA DI
NCAA DII
NCAA DII
NAIA
55m IN
6.95-7.35
7.25-7.75
7.90-8.25
7.40-8.00
60m IN
7.31-7.85
7.30-8.50
7.80-8.50
7.68-8.50
60m HH IN
7.68-8.50
8.36-10.0
8.95-10.20
8.93-10.0
300m IN
39.20-41.05
40.00-42.32
42.03-45.00
40.07-44.00
500m IN
1.15.94-1.18.45
1.17.44-1.20.45
1.22.56-1.25.44
1.19.67-1.22.93
600m IN
1.34.31-1.36.54
1.35.23-1.39.34
1.38.67-1.44.33
1.39.23-1.42.34
3000m IN
9.18.54-9.23.45
9.19.56-9.29.44
9.28.60-10.00
10.26.69-10.37.00
100m IN
13.12-14.70
14.18-15.60
14.26-17.50
14.56-17.50
300m IH
41.80-45.70
44.39-48.00
47.56-49.50
45.66-48.50
400m IH
57.15-65.50
60.99-67.00
62.45-75.00
64.03-75.00
100m
11.23-12.20
11.90-12.80
12.12-13.20
12.03-13.50
200m
23.00-25.40
23.90-26.50
24.58-28.50
24.57-28.00
400m
52.06-58.50
54.88-63.00
56.72-67.00
56.14-62.50
800m
2.04.18-2.15
2.06.99-2.27
2.10.65-2.32
2.15.21-2.25
1,500m
4.13.30-5.15
4.30.45-5.18
4.40.76-5.20
4.39.74-5.15
1,600m
4.39.32-5.23
5.03.44-5.45
5.05.67-6.00
5.01.44-5.47
3,200m
10.08.11-11.32
10.29.45-12.00
10.35.67-12.30
10.26.69-12.00
5000m XC
16.53-18.50
17.59-19.45
21.12-32.00
18.23-22.04
3,000m Steeplechase
10.07.99-12.00
11.23.87-12.50
11.39-12.30
11.49.25-12.25
High Jump
6'00"-5'4″
5'8″-5'2″
5'5″-4'9″
5'6″-5'0″
Long Jump
20'6.25″-18'0″
19'0″-16'3″
19'0″-16'0″ ;
19.1″-16'0″
Triple Jump
42'9″-38'6″
40'4.5″-32'5″
39'1″-31'5″
37'10"-30'6″
Shot Put
55'1″-43'5″
47'3″-39'6″
44'8″-34'0″
44'11"-36'0″
Discus
174'1″-147'9″ ;
153'0″-113'6″
143'6″-110'4″
121'3″-100'0″
Javelin
172'1″-141'0″
149'0″-127'0″
138'5″-112'3″
117'10"-100'0″
Hammer
206'9″-170'4″
182'0″-146'4″
170'6″-120'3″
157'5″-110'6″
Pole Vault
14'0″-12'0″
13'0″-11'6″
12'5″-10'0″
12'0″-10'0″
Heptathlon
5558-4000 points
4915-3500 points
4691-3000 points
4223-3000 points
This is the top level of US college track and field. The athletes that are competing here are among the best in the world. For many athletes just competing at this level never mind getting a scholarship can be a tremendous accomplishment. It is always good to have a couple DI schools on your list but if your times don't match up to the athletes currently on the team you might need to look at the other division levels.
Many of the athletes at the NCAA DII level have the times or ability to make the team at the DI level but choose DII because they can get a better scholarship package and be more competitive. This doesn't mean the competition level is low, in fact the winning times and marks at DII are often very close to the DI times. The biggest difference is the depth of talent. If you are a fringe DI athlete, you can compete at the DII level and be much more competitive and probably get a bigger scholarship.
Without the ability to offer athletic scholarships many people feel that DIII sports and track and field in particular are among the purist forms of competition. Athletes at this level could compete at the DII level but have chosen DIII usually because the school is a better fit for them.
For a long time, people thought NAIA and DIII colleges were the same levels of competition. Over the last few years NAIA track and field has started to show they are much more competitive and actually closer to the DII calibre of athletes.
The junior college level has a very wide range of talent in track and field. Some athletes are at the Junior College level because they are academically ineligible to be at the NCAA DI level. Other athletes didn't quite have the times or marks to move straight on to a four-year university so they are at a junior college working to improve and move on after a couple years.
Live, study and play with top US Institutions