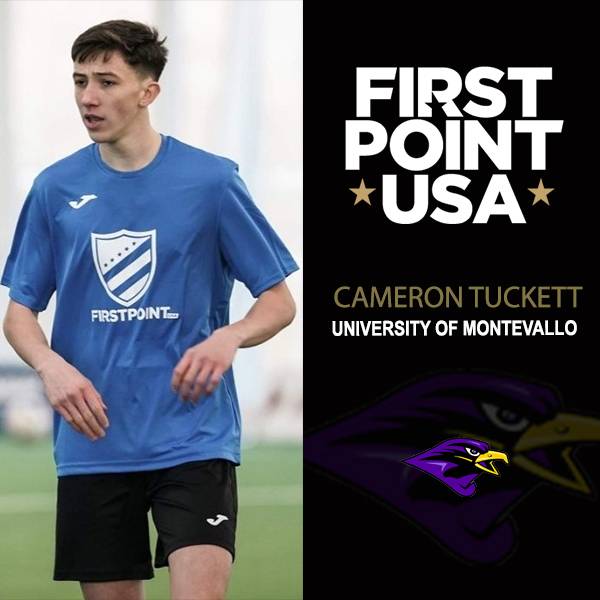 We are thrilled to announce that FirstPoint USA's very own Cameron Tuckett has confirmed his place and is committed to the University of Montevallo, Alabama. The soccer-athlete is set to join the Montevallo Falcons this August. Cameron shares with us, his reasons for perusing a sports scholarship in the U.S, how his scholarship process has been and what he is looking forward to upon arriving in Alabama.
17-year-old Cameron Tuckett is no stranger to success in soccer, starting his soccer career in 2010 with Broomhill Sports Club until 2017. Following on from Broomhill, the right-back set off to North Kelvin United, where he was the vice-captain of the team. It was with North Kelvin United, that Cameron reached the league cup final in 2018/19. Just last year, Cameron made the move to Pollock FC U19's, where he is in the right-back in the first division of the Paisley Johnstone League.
We asked Cameron what he is looking to get out of the academic side of the scholarship, to which he replied that he is interested in studying Business and Economics. He explains that he believes this subject would open up opportunities in many different fields after he completes his degree.
Upon signing with FirstPoint last year, Cameron told us that he was excited to do something different from everyone else. He wanted to broaden his horizons, instead of staying somewhere that he has lived his whole life. He also added: "Living in Scotland, I wouldn't mind a bit of better weather!" Fast forward a year later and Cameron has just signed and is committed to the University of Montevallo, we asked him what it was he was most looking forward to which he replied: "I'm excited about joining the team and getting to know the players and coaches, also I can't wait to start training and playing every day at the amazing facilities the University has to offer and in the warm Alabama weather."
The University of Montevallo is an NCAA Division II school based in Alabama, so it's easy to understand why Cameron was interested in attending. However, we wanted to know what first attracted him to becoming a Montevallo Falcon:" Initially I was attracted to Montevallo because of the incredible facilities they have to offer and that they play in a competitive conference against teams all over the south. Once I began chatting to the coach and a few of the players I just got a great feeling about the program and the University itself."
Finally, we asked Cameron to share with us how he found his #FirstPointJourney and the overall scholarship journey. He shares with us "FirstPoint gave me some great experiences, such as playing in the showcase at St Georges Park and also provided me with great footage so I was able to be promoted and contact coaches in the U.S. Also my consultant, Gemma was very helpful with answering my questions (and there was a lot of them.)"
We want to wish Cameron the best of Luck out in Alabama and are looking forward to keeping up with the rest of his scholarship journey.
Stay up to date on all of the action by following us on our social media platforms:
Facebook, Instagram, Twitter, YouTube and LinkedIn.