Soccer star Luke Murphy has been on cloud nine this summer after graduating in Sports Management at Tusculam University, Tennessee.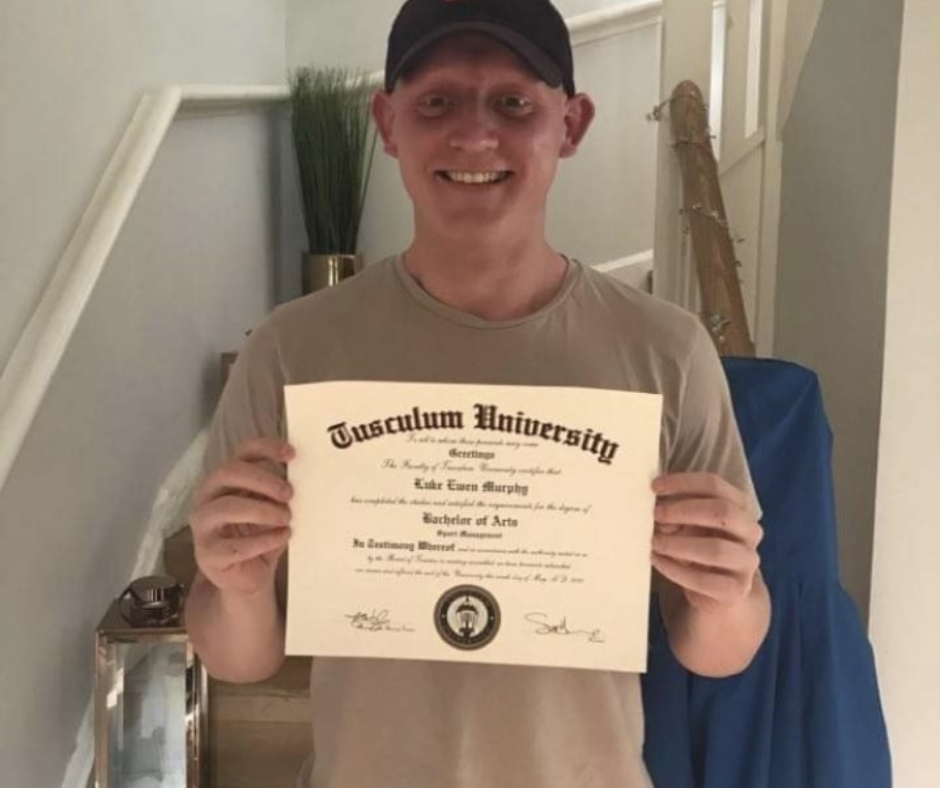 FirstPoint USA spoke to the Scottish striker, born and brought up in Glasgow, to hear more about his journey …
FP: What were your sporting aspirations when you were younger?
LM: If I'm honest at school age I just enjoyed playing football and was never too fussed about the level I was at as a footballer. It wasn't until I started to think about America that I decided playing professionally would be the aim for me.
FP: Tell us how you came to be a scholar-athlete in the USA?
LM: It was through a friend. I heard of his experience out there and thought that sounded like a magic experience. I was fortunate enough to perform well enough in my first two years at junior college to get myself a full scholarship to a four-year college.
FP: What were your first impressions of both Herkimer and Tusculum?
LM: My first impression of Herkimer was mostly a shock, it was a small college in a small town with not much going on, so I was hesitant at first but after meeting the boys and the coach I knew I would have a great time. The level of player was high and there was good competition throughout the team. At Tusculum, we had a fantastic group of boys who worked hard and made the experience enjoyable too.
FP: Any particular highlights during college life - both academically and on the pitch?
LM: I would say my highlights would be – making the All American 1st team, being named National Scholar Player of the Year, being top goalscorer in the country during my sophomore year, being named MVP for the region and finals, making the Deans list on three occasions and, of course, graduating with honors. There were plenty of off the field highlights with team mates as well.
FP: How did you feel when you graduated?
LM: The feeling of graduation is one that's hard to describe. I was overwhelmed with joy and pride, it was something I never thought I'd get to do in life and I will treasure that forever.
FP: What are the main things you know now which you didn't appreciate beforehand?
LM: I would say the main thing is how quickly time goes by when you're enjoying yourself in the States, I would love to have been able to take a bit longer to soak up in the good moments. I would also say the off seasons are incredibly important as the American style is very athletic-based. Finally, I now understand more about what it means to American colleges when you're a student-athlete, it's a very well regarded position to be in, which they take very seriously whereas at home representing your school isn't such a big deal.
FP: What's next for you?
Right now I plan on getting my coaching badges and continuing to play at as high a level as possible. I have some trials lined up so hopefully they work out. I aim to get back to America at some point in the future.
FP: Finally, how helpful were the FirstPoint USA team during your journey?
LM: FirstPoint were of great help to me for coming out to America. John Paul was my advisor and he really helped me with my options and told me a lot about the colleges. I was well advised throughout the process. Going to the States turned out to be one the best decisions of my life.
Inspired by Luke? Find out more about scholar-athlete opportunities in the US via FirstPoint's free digital platform: https://www.firstpointusa.com/