We recently caught up with soccer-athlete Tyreeq White, who has just committed to the University Of Rio Grande! We discuss all things Redstorms, his FirstPoint journey so far and why he decided to commit to Rio Grande!
FP: Hi Tyreeq! We've come a long way since your first blog back in 2019, how have you been?
TW: I have been good thank you. I finished my A-levels last summer and decided to take a year out to train and keep playing. Due to COVID, the majority of last year I was training myself five or six times a week, I then got a chance to sign for a professional club (Boreham Wood FC) and be involved in their academy set up. I was training with the U19 elite squad.
FP: Back when you first signed with us you said that you were most looking forward to being abroad and getting the opportunity to be in a different surrounding, now that that is a reality, how are you feeling about heading out to the States?
TW: Now that the future looks better, I have decided to commit and head out this fall. I cannot wait to play abroad and get the chance to showcase my talent internationally. One adaptation I will have to get used to, will be living alone and living in new surroundings but to be the best you have to take these decisions and sacrifices to reach the goal you want. It was a sacrifice I was willing to make in order to fulfil my dream. This is a big move for my family and I but we are happy I am going and get the chance to step up and take a step closer to going pro!
FP: Tell us about your recent commitment to the University of Rio Grande, what is it about Rio that made you decide that it was the school for you?
TW: There are many universities with amazing programmes, but I am happy to announce that I signed with 2x national champions Rio Grande in the NAIA Division 1. Scott and Reece were a big part of my choice and I am excited to get the chance to work with them. Another member that played a big part was my agent Jemma, she helped me through my whole process and helped me receive this brilliant offer. The team has brilliant facilities and a great coaching team. I do know a couple of players that have gone over as well, and they say the team is one of the best in the country and by far the best team they have played for. The team is very good and competitive, and I think I will fit in great! All players are driven to do the best and everyone within the team (coaching staff included) are very motivated to get to the top. Being a competitive player and always wanting to win, this was the perfect move. I am lucky to work with the coaches and team and also get the chance to play for this great team.
FP: How has the process been for you with FirstPoint?
TW: The process has been great. FirstPoint has really helped me through this stage and they do a wonderful job of helping talented players get the chance they deserve. As the world's leading scholarship agency, they have many connections to help all the players. Some are connected to the FA and Wembley. With FirstPoint they allow you to have a showcase game(s) at England training ground and allow you to play at numerous great football facilities for the client games (all prior to Covid). Also having interviews and meetings at a luxurious suite in Wembley stadium. They have all helped me receive great offers, but my agent especially has had a huge impact! Jemma has been outstanding, and I am very grateful to have her help me through it all.
TW: I am in the process of getting things ready to go over and I cannot wait for the experience. The chance to play football at a great national level as well as study for a university degree is very appealing and many people should look into this and get applying! The chance to play at this level I am forever thankful for. I cannot wait to get over and train like a professional, play like one as well as get treated like one! The matchday travels by plane, the facilities at every team and the games being on TV and streamed online worldwide! What more could you ask for! One of the best experiences and chances to receive for players around my age. It is definitely something I would recommend looking into.
We would like to thank Tyreeq for taking the time to speak to us about his FirstPoint Journey so far, and we can't wait to see him achieve new heights at The University of Rio Grande!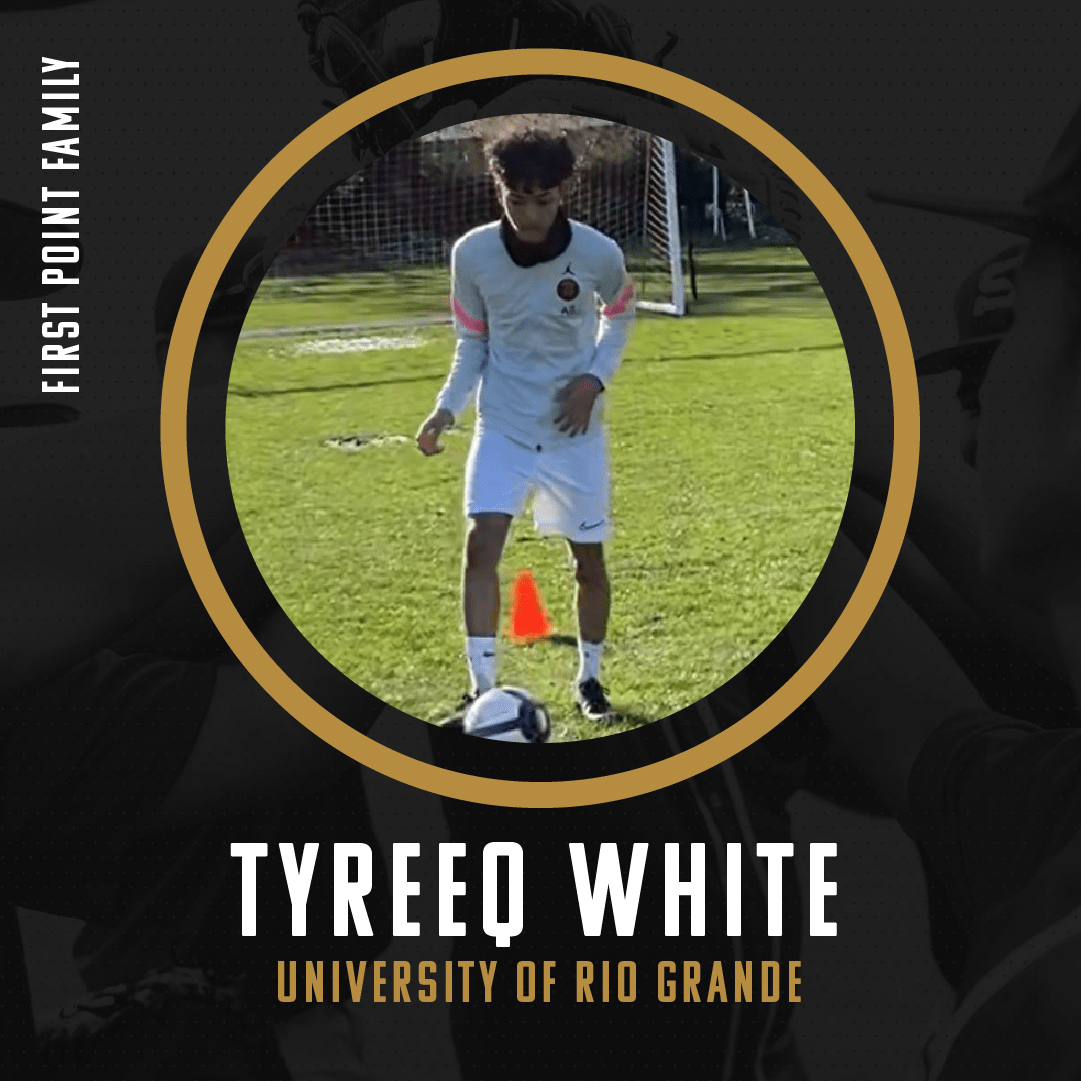 Feeling inspired by Tyreeq? Take The Test!
#FirstPointFamily #FirstPointCommitted