FirstPoint USA is proud to announce a partnership with Opendorse to help all student-athletes maximize their earning potential while ensuring compliant practices via the new Name, Image & Likeness (NIL) opportunity.
Opendorse, the US-based athlete marketing leader, provides student-athletes with technology and resources to educate them on their reputation and on how to find opportunities to partner with brands. The new partnership means FirstPoint will provide an NIL education and branding service to all student-athletes through the Opendorse Ready program.
From 1st July 2021, new NCAA legislation cleared student-athletes to pursue NIL deals. As a result, every college athlete in the US – across all divisions and sports - can make money from endorsements and a variety of other ventures, over-and-above the scholarship they receive from the college, such as social media posts, advertisements, and appearances.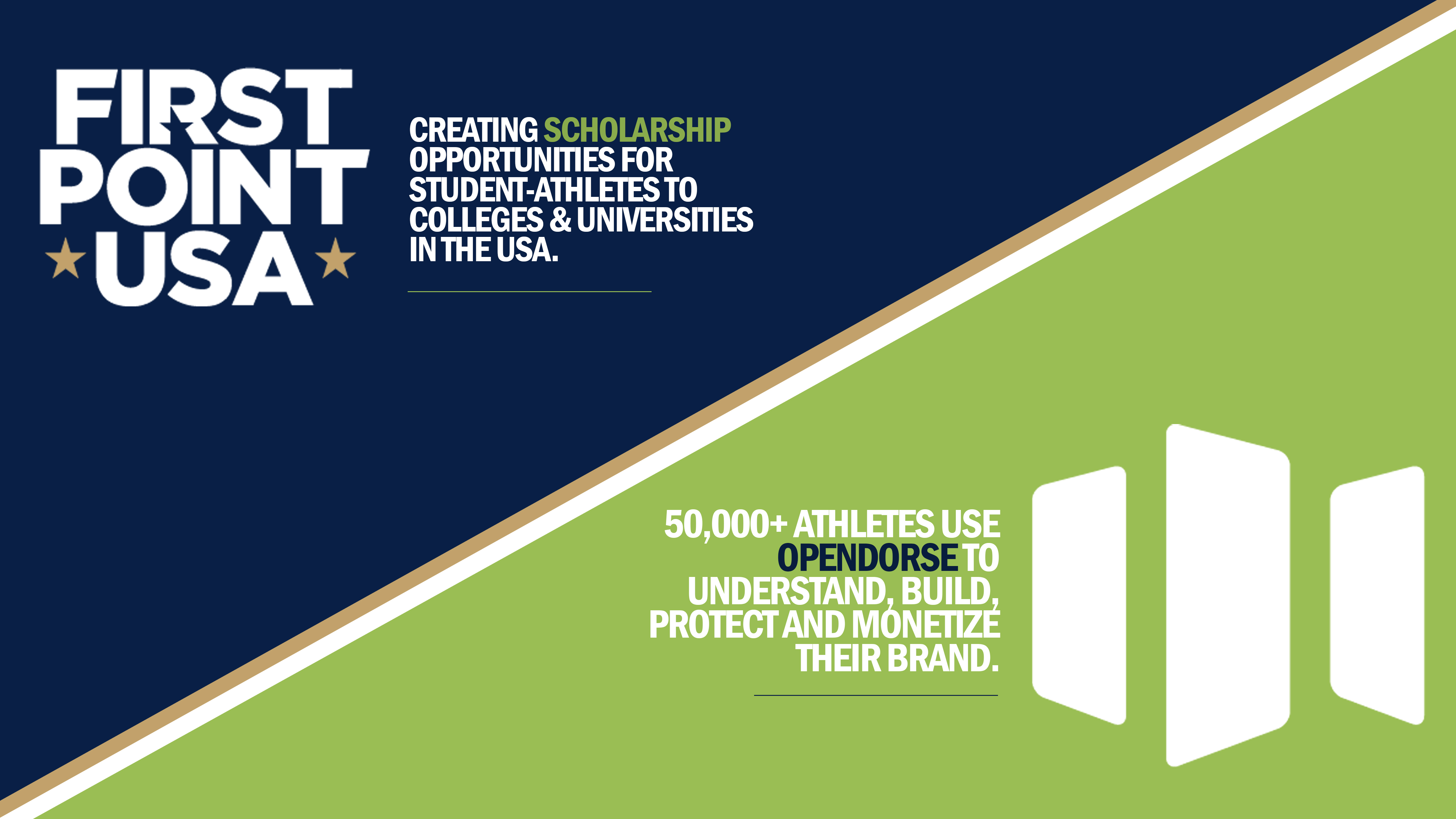 According to ESPN, it is estimated that a typical NCAA athlete could earn from $75,000 to $100,000 annually from their NIL; whilst also estimating that an All-American athlete could earn anywhere from $500,000 to $2 million per year in social media endorsements.
Andrew Kean, FirstPoint USA founder, and CEO, said: "We are proud and excited to partner with Opendorse with our role together being to prepare international student-athletes for the NIL era, allowing them to develop and monetize their personal brands going forward."
"The partnership brings together the two biggest organizations working with college athletes outside the United States. It means that both existing and prospective college athletes can put themselves in the best position by using a one-stop-shop for NIL education and branding and start striking endorsement deals almost immediately."
Opendorse Ready provides student-athletes with education and technology to understand and maximize the value of their NIL rights. Student-athletes utilizing Opendorse Ready through FirstPoint USA will also benefit from a social media audit and brand valuation.
Athletes are anticipated to appear in national advertising campaigns; partner with brands to advertise through social media channels; start their own youth sports camps or teach lessons; launch their own businesses; sell memorabilia; make paid public appearances for speaking events or autograph signings, and use their NIL rights in a variety of other creative ways.
"FirstPointUSA has a proven track record of supporting student-athletes through their academic and athletic journeys," said Opendorse CEO Blake Lawrence. "I'm proud to now help them expand that support to include the opportunity with NIL. Every athlete has a chance to win in this new landscape, and this partnership will ensure that they have the necessary tools and resources necessary for success."
---
What is NIL?
Most simply, "name, image and likeness" are three elements that make up a legal concept known as "right of publicity." Right of publicity involves those situations where permission is required of a person to use their name, image or likeness.