On our most recent trip to the USA, we were lucky enough to stop by the Penn State University campus and spend some time with a few of the coaches and players, including FirstPoint USA alum and former Rangers FC academy player, Matthew Henderson.
Matthew had a successful academy career with Rangers Football Club, also featuring within the Scotland National Youth setup before committing his future to the NCAA Division I soccer program at Penn State to play under legendary college soccer coach, Jeff Cook and continue honing his craft alongside gaining a world-class education at the illustrious Penn State University.
Speaking on his short experience within college soccer so far, Matthew talked about how the game differs from academy football:
"I've really enjoyed it so far. It's been a brilliant experience and I'm loving everything about being here, the football, the school, and I've already met some brilliant people.
Football here is very different because you're constantly playing against a wider range of players. Back home you tend to only play against guys your own age at each level of youth football, whereas in college soccer you could be playing in a game with and against guys who are 3 or 4 years older than you, who have already gained so much experience and are now looking ahead to the draft or moving into professional football.
For me, I like that as it's a completely different challenge from a physical aspect, and to me these games involve a lot more tactical stuff as well, particularly when game-planning for each team on the schedule".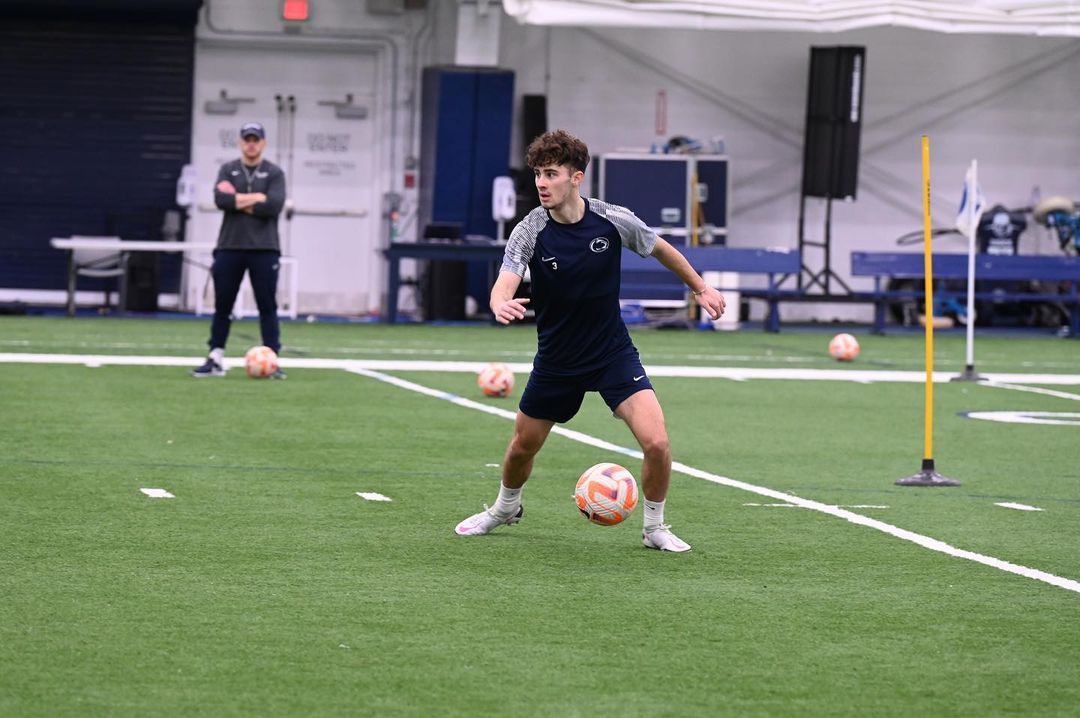 Despite only making a handful of appearances for the Nittany Lions so far, Matthew made an instant impact on the pitch, mentioning a huge derby fixture against Michigan as one of his early highlights:
"The biggest highlight for me so far I'd probably say would be either the game against Wisconsin because it was my first taste of playing in the Big 10, or the Michigan game is a clear standout because of the rivalry and I got the assist for the winning goal – so that'll always be a special memory for me".
On the adjustment period moving from Scotland to the USA, Matthew discussed some of the challenges of living and studying on campus:
It took a little time for me to adjust to campus life. Obviously in my first semester, you're still new to the school and the area, and the actual campus is so huge you sometimes find yourself having to rush around looking for where the next class is taking place – which was a completely new experience for me.
That said, once you get used to your surroundings and get over the initial confusion, it's great. The campus is so impressive, and the facilities are the best I've ever seen.
One of the biggest draws of Matthew signing with Penn State was the opportunity to work under one of the very best coaches in the Nation, Jeff Cook – an 11-time Conference Championship winner who also coached FirstPoint USA Founder & CEO, Andrew Kean to two All-American selections with the University of Cincinnati:
"The experience of working with him has been brilliant. With me personally he's been great, I'd say in terms of style and personality, he's the ideal coach for me to work under. He has such a great way of dealing with people and it's helped me massively in building my confidence and getting more and more comfortable with the training and games.
Tactically he's the best coach I've ever worked with, he knows all of the players so well and even in the relatively short time I've worked with him, it's clear he understands your strengths and weaknesses and how to get the very best out of you which is a huge credit to him and the rest of the coaching staff".
With the new college soccer season just a few months out, Penn State are already gearing up for another run at the Big 10 Conference Championship and if Matthew's freshman year is anything to go on, he's set to make a huge impact in his second season with the team.
FirstPoint USA has a dedicated team of specialist talent management consultants who have assisted thousands of young athletes to propel their athletic and academic careers through successful partnerships with top U.S. institutions. In addition to this, we also have robust processes and support tools in place to help you understand the intricacies of your scholarship options, so we're with you every step of the way.
For more information on the life-changing opportunities for young men and women that an athletic scholarship in the USA can provide, why not get in touch with one of our specialist sports consultants today: Sports Scholarships | FirstPoint USA | FirstPoint USA
---
FirstPoint USA is an international scouting service, providing recruitment services to hundreds of NCAA, NAIA, and NJCAA member institutions seeking to identify the very best in overseas talent, both male and female.
The company was founded in 2001 by former University of Cincinnati All-American and Hall of Fame inductee, Andrew Kean, and evaluates over 100,000 prospective student-athletes, competing in over 20 different sports, across 187 countries each year.