For aspiring ice hockey student-athletes seeking a world-class education alongside a game-changing athletic opportunity, international high school academies in the United States and Canada present a life-changing pathway to success. Combining academic excellence with a commitment to athletic development, our long list of world-renowned international high school academies offers a unique experience that can shape the future of young athletes and set them in perfect stead to pursue further education via the college route, or take their talents to the professional leagues. In this latest feature, we'll explore three of our prestigious high school academies and their exceptional ice hockey programs: Athol Murray College of Notre Dame, Branksome Hall, and St. John's-Ravenscourt
Athol Murray College of Notre Dame
Located in Saskatchewan, Canada, Athol Murray College of Notre Dame has gained a reputation for its top-tier ice hockey program. Established in 1920, the school is committed to providing a supportive environment for students to excel academically and athletically in one of Canada's most passionate sporting states. Notre Dame Hounds participate in the Canadian Sport School Hockey League (CSSHL) and various national and international competitions and have a rich history of successful alumni, including various former students who have gone on to play in college and professional leagues like the NHL.
The school's state-of-the-art facilities and world-class coaching staff nurture young talents, offering personalised training programs that foster educational talent, teamwork, and sportsmanship. Athol Murray College provides aspiring ice hockey players with an unparalleled platform to pursue their athletic dreams while receiving a well-rounded education.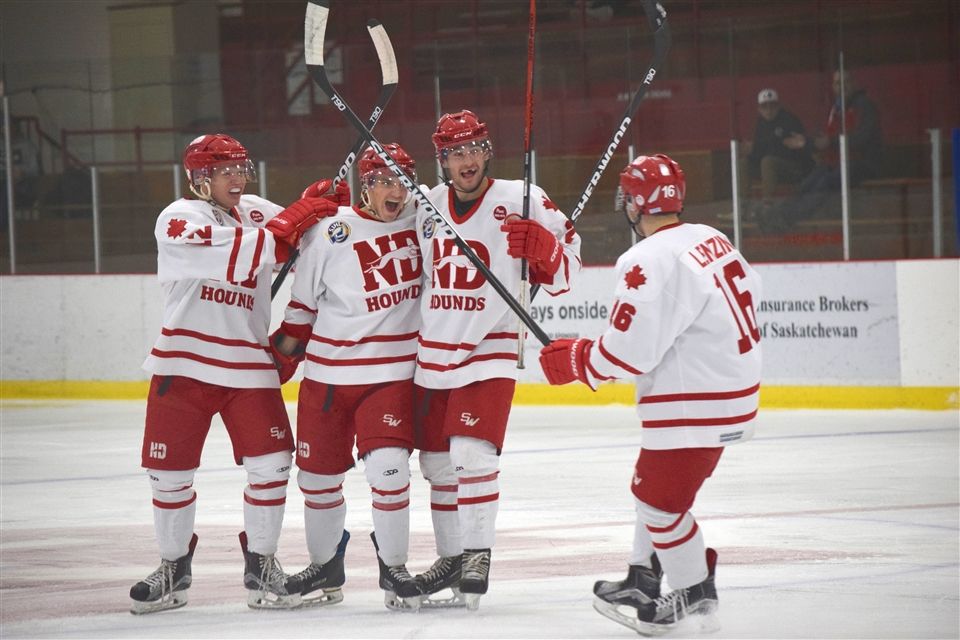 Branksome Hall
Situated in Toronto, Ontario, Branksome Hall is renowned for its commitment to empowering young women both academically and athletically. With a diverse and inclusive community, the school embraces the values of integrity, compassion, and resilience and Branksome Hall's ice hockey program is one of the very best in women's sport.
The team competes at the highest levels and encourages players to become leaders on and off the ice. Branksome Hall's emphasis on holistic development ensures that students receive the necessary skills and support to excel academically and achieve success in ice hockey, as well as opening doors to collegiate opportunities and beyond.
St. John's-Ravenscourt
Located in Winnipeg, Manitoba, St. John's-Ravenscourt boasts a rich history of academic excellence and a strong commitment to its sporting programs. The school's ice hockey program is distinguished for its competitive edge and for fostering a culture of success across Canadian high school athletics. St. John's-Ravenscourt participates in regional and national tournaments, providing students with invaluable exposure to collegiate scouts and potential scholarship opportunities for the future as they continue to develop on and off the ice.
SJR's high-performance athletic facilities, combined with a nurturing and inclusive community, enable aspiring ice hockey players to thrive both on and off the ice. The school's dedication to character development and academic achievement ensures that students are prepared for success in their future endeavors.
For aspiring ice hockey players with a passion for both academics and sports, international high school academies in the United States and Canada provide a life-changing opportunity. Athol Murray College of Notre Dame, Branksome Hall, and St. John's-Ravenscourt, stand as beacons of excellence, nurturing young talents and fostering their growth on and off the ice. By choosing any of these esteemed institutions, aspiring ice hockey players can embark on a transformative journey towards a brighter future, both in their sporting careers and academic pursuits.
Whether you are looking for an Academy specialising in a specific sport, a High School that focuses on a particular range of subjects, or a location that suits your needs, FirstPoint can guide you in the right direction, take the stress out of your decision-making and working closely with you to match your requirements.
To find out more, please contact a member of our team: academies@firstpointusa.com
---
FirstPoint USA is an international scouting service, providing recruitment services to thousands of high school and college programs, including NCAA, NAIA, and NJCAA member institutions seeking to identify the very best in overseas talent, both male and female.
The company was founded in 2001 by former University of Cincinnati All-American and Hall of Fame inductee, Andrew Kean, and evaluates over 100,000 prospective student-athletes, competing in over 20 different sports, across 187 countries each year.