You've finally made the decision to take that next step towards a life-changing US sports scholarship, and now comes arguably the most important part of the process; deciding which school is right for you.
Summer college visits offer a golden opportunity to explore your dream academic and athletic destinations. The below list provides a comprehensive guide for prospective student-athletes embarking on their summer college visits, and how to maximise the opportunity presented to you. Afterall, this is one of the biggest decisions you and parents will ever have to make and will be one of the defining avenues for the rest of your academic and athletic career.
Have a clear strategy for your college visits
Organising your college visits requires meticulous planning. Begin by researching the colleges that resonate with your athletic and academic goals. Creating a well-thought-out itinerary will enable you to visit multiple campuses efficiently and gather valuable insights on the local amenities, the town, what the culture of the area and state is like and how the facilities compare in terms of equipment, training areas and the stadium or arena you'll be playing in for the next few years.
Forge connections with coaches
Just as fostering strong bonds with coaches can be a game-changer for your professional development, its no different within the college recruitment process. Engaging with college coaches during your visits can help propel your athletic outlook, so before you set foot on campus, take the initiative to reach out to coaches and ask questions. Research their style of play, their history as a coach within the collegiate system and any successful former alumni that have played under them. Understanding the coach and how they operate within the overall team environment will help you better evaluate how you'll fit within their system.
Elevate Your presence with summer camps and showcases
As passionate athletes, you understand the significance of honing your skills to excel in your respective sport. In the same vein, attending summer showcases and camps can elevate your college exploration experience to a new level. These events offer an excellent platform to display your talents and interact with college coaches, increasing your chances of standing out in the recruitment process. The likes of UCLA's prestigious summer rugby camp, and the University of Arizona's soccer summer workshops are fantastic ways to enhance your athletic CV and gain early exposure to the collegiate style of coaching.
Embrace academic excellence
At FirstPoint USA, we always emphasise the importance of striking a delicate balance between academics and athletics. Just as excelling in your studies at an international high school academy opens doors earlier in your career, investigating academic offerings during your college visits is vital. Schedule meetings with academic advisors and faculty members in your chosen field to delve into the coursework, research opportunities, and support services available. Whilst the playing side of a college scholarship may be the more exciting aspect for you, you're also working towards a world-class degree education that will stand you in perfect stead for the rest of your life.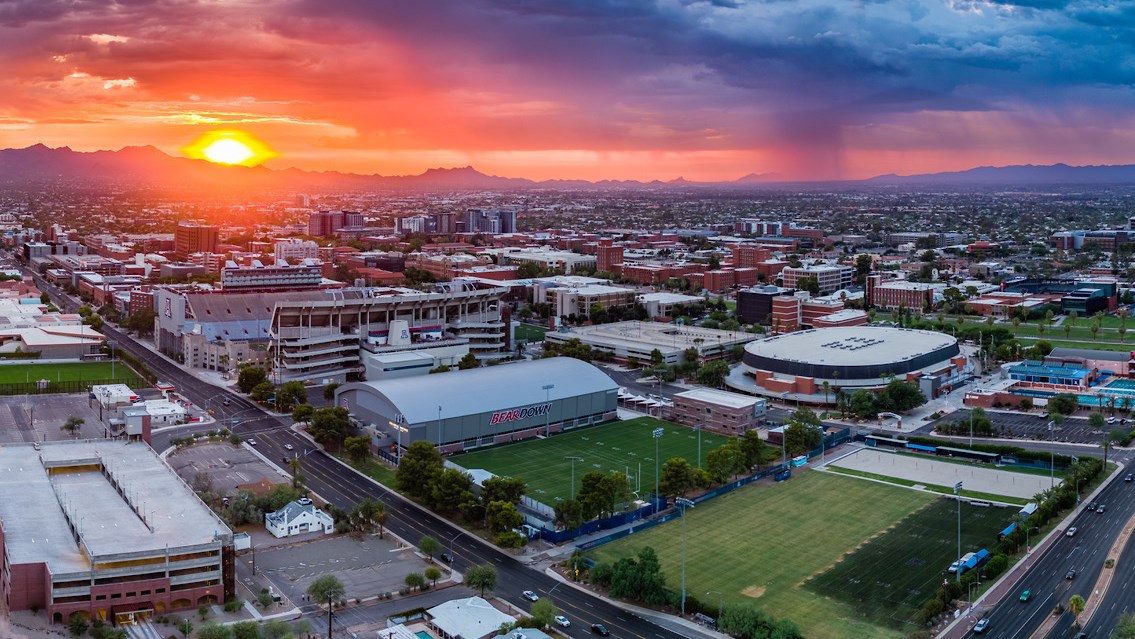 Immerse yourself in campus life
Colleges are more than just a place of learning, a college campus is a vibrant and diverse international community. To make an informed decision, immerse yourself in the campus culture by attending student events and exploring the surroundings. Interact with current students to gain authentic insights into daily life, ensuring the environment aligns harmoniously with your aspirations. Social media can be a great place to do some early research on the campuses, what events and activities go on throughout the summer and during the academic season and even reach out to some of the current and former student-athletes to ask any questions.
As you embark on your summer college visits remember that just as your US sports scholarship offers a transformative and life-changing journey for international student-athletes, your summer college visits can be the key to unlocking your specific aspirations and figuring out exactly what you want to gain from your experience in the United States. By planning strategically, engaging with coaches, and embracing the campus culture, you'll set yourself up to make a well-informed decision about your future.
---
FirstPoint USA is an international scouting service, providing recruitment services to hundreds of NCAA, NAIA, and NJCAA member institutions seeking to identify the very best in overseas talent, both male and female.
The company was founded in 2001 by former University of Cincinnati All-American and Hall of Fame inductee, Andrew Kean, and evaluates over 100,000 prospective student-athletes, competing in over 20 different sports, across 187 countries each year.