FirstPoint USA is delighted to announce we have extended our partnership with PFA Scotland and will continue to offer world-class support and life-changing opportunities to young footballers across Scotland.
The partnership, which has now been operational for a number of years provides a clear and structured pathway for young Scottish footballers to explore the opportunities of playing abroad and gaining a valuable education as part of a sports scholarship in America.
Speaking at PFA Scotland's fantastic "My Future Now" event in Glasgow yesterday, and joined by a panel of exceptional presenters, including Team GB and Scottish basketball legend Kieron Achara, FirstPoint USA's Head of Talent ID Kenny Brannigan, delivered a special talk to the players informing them of the process, qualification criteria, and benefits of a football scholarship in the USA. Yesterday's event in Glasgow is the first of three similar events which are due to take place in Edinburgh's Oriam and St Johnstone FC's McDairmid Park in Perth later this month.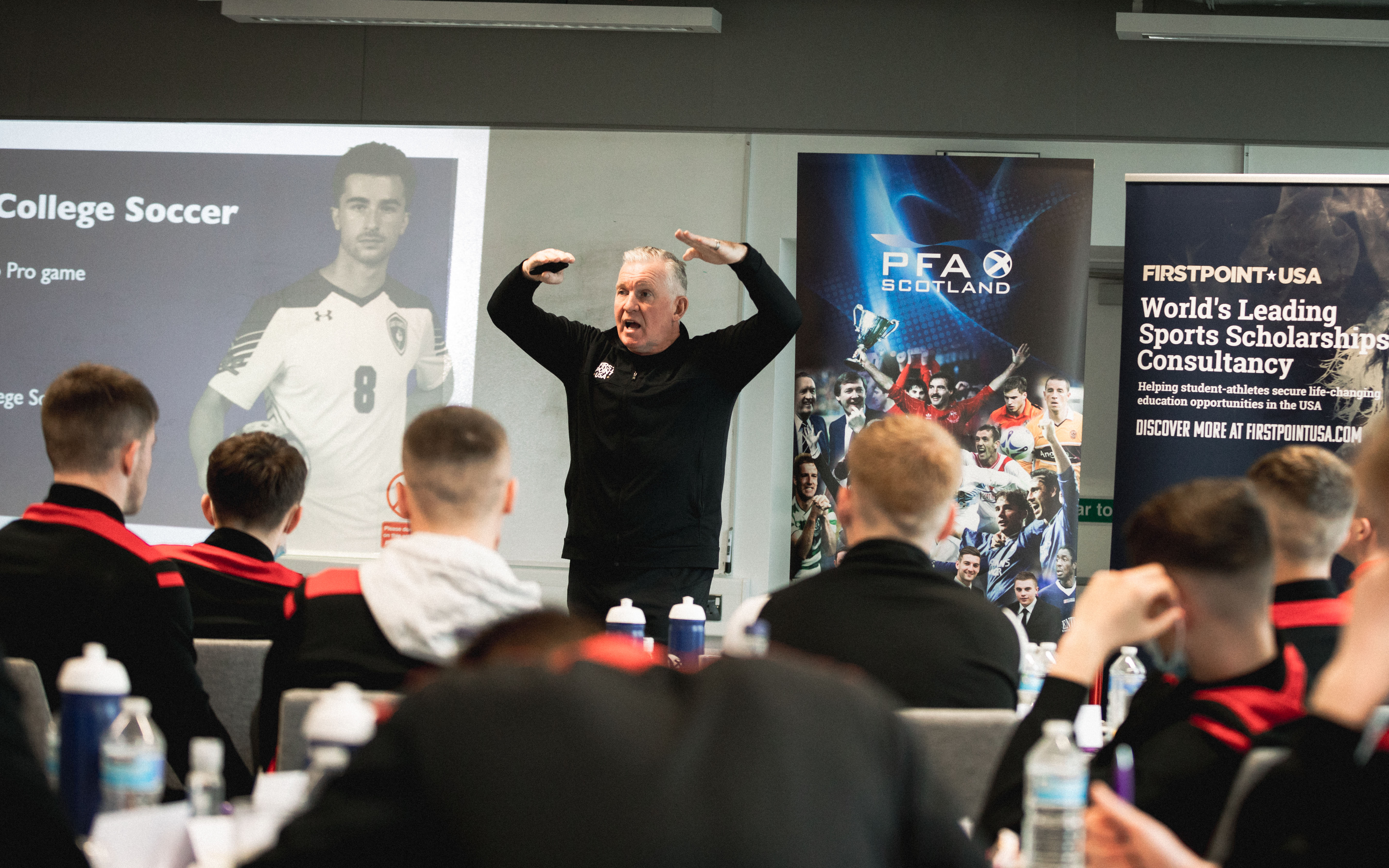 Andrew Kean, FirstPoint USA Chief Executive, said: "These sessions are invaluable to help young players fully understand what a US sports scholarship entails, the commitment required, and the array of benefits both on and off the pitch. We've been in partnership with PFA Scotland for a couple of years now however this has been our first chance to speak to such a group of players face to face.
"A US sports scholarship widens your options both as a footballer and in your chosen subject of studies. It is not uncommon for players to complete a scholarship and return to the game at home, with Leeds United's Jack Harrison being a high-profile example down south as are Dunfermline's Leon Jones and Patrick Thistle's Ciaran McKenna, closer to home.
"As many of the players we meet at these three events will ultimately be released, we're really pleased to have opened the door to another opportunity in the next chapter in their careers."
Fraser Wishart, PFA Scotland chief executive, said: "We're really pleased to extend our partnership with FirstPoint USA, who has an unrivaled track record in the US sports scholarship sector. The session was of tremendous value to all the players who attended and we look forward to supporting those who wish to look seriously at this opportunity and take things to the next stage. We are grateful to Andrew and his team for their continued sponsorship which will enhance our offering to young players in Scotland.
For more information on the life-changing opportunities that a sports scholarship in the USA can provide, visit www.firstpointusa.com
---
FirstPoint USA is an international scouting service, providing recruitment services to hundreds of NCAA, NAIA, and NJCAA member institutions seeking to identify the very best in overseas talent.
The company was founded in 2001 by former University of Cincinnati All-American and Hall of Fame inductee, Andrew Kean, and evaluates over 100,000 prospective student-athletes, competing in 30 different sports, across 187 countries each year.