One of the biggest questions we get around our student-athletes making the transition to one of our international high school academies is: "What does a typical day in the life look like during the athletic and academic season"?
This latest feature provides a point-by-point rundown of what student-athletes can expect to do throughout their carefully planned day, ensuring there's an effective balance of training and physical activity, education and learning, and perhaps most importantly, nutrition and rest.
This meticulously structured example schedule sheds some light on what a typical student-athlete at Spire Academy, one of our valued high school academy partners in Ohio would look like. Spire seamlessly integrates academic pursuits and athletic training into their daily schedule to cultivate well-rounded individuals.
Here's a breakdown of a typical day in the life of an international high school academy student:
6:30 AM - 7:00 AM: Morning Routine
The day commences with students waking up between 6:30 AM and 7:00 AM to start the day. Each school and athletic team have a carefully crafted nutrition program in place to ensure they receive the correct nourishment to maximise their day and the rigours that come with balancing an academic and athletic schedule during the season.
7:00 AM - 8:20 AM: Sport Training
From 7:00 AM to 8:20 AM, students engage in rigorous sport training sessions. This early physical activity aims to improve their athletic skills and overall fitness, with morning activity scientifically proven to reduce distractions throughout the day and help balance things like blood pressure and weight.
8:25 AM - 9:45 AM: Educational Period 1
The following period, from 8:25 AM to 9:45 AM, is dedicated to the first educational session. During this time, students actively participate in academic learning, fostering a balanced educational foundation and giving their bodies a chance to recover from the early morning training session whilst training their minds and cognitive muscles.
9:45 AM - 10:15 AM: Breakfast Break
A brief breakfast break of 30 minutes allows students to replenish their energy with a nutritious meal and get set for the next physical performance session, ensuring their bodies are properly fuelled with the correct nutrients.
10:25 AM – 11:45 AM: Performance Session
The mid-morning session, spanning from 10:25 AM to 11:45 AM, is dedicated to performance-based activities. These activities enhance mental resilience, strategic thinking, and physical dexterity.
11:50 AM – 1:10 PM: Educational Period 2
Following the performance session, the second educational period takes place from 11:50 AM to 1:10 PM. Students continue their academic pursuits, enhancing cognitive engagement and strengthening their learning from the early morning session.
1:10 PM – 2:00 PM: Lunch Break
The lunch break from 1:10 PM to 2:00 PM provides students with an opportunity to refuel with a balanced and satisfying meal provided in line with their carefully crafted nutrition plan.
2:10 PM – 3:30 PM: Educational Period 3
Educational Period # 3, occurring from 2:10 PM to 3:30 PM, focuses on further academic enrichment. This segment emphasizes the value of continuous learning throughout the day and will be the final academic session before the students engage in their evening activities.
3:35 PM - 4:55 PM: Second Sport Training
In the afternoon, students return for their second sports training session, dedicated to honing their athletic skills and techniques. This session is particularly important as it'll be the final round of physical activity before they settle down to rest and recover their bodies in the evening.
5:00 PM - 6:30 PM: Dinner
From 5:00 PM to 6:30 PM, dinner is served, offering students a balanced meal to refuel and re-energize from a busy day of academic and athletic training.
6:30 PM – 8:00 PM: Study Hall
The evening hours, between 6:30 PM and 8:00 PM, are dedicated to focused study sessions, allowing students to concentrate on their academic responsibilities and catch up with any learning and reflection from earlier in the day and get a head start on planning out the following day.
8:00 PM - 10:00 PM: Free Time
From 8:00 PM to 10:00 PM, students enjoy personal free time, enabling them to pursue hobbies, relax, and unwind. Catch up within their social circles and make use of the world-class amenities on-site within the academy campus.
10:00 PM: House Call and Preparation for Rest
At 10:00 PM, students receive the house call, signalling the transition to wind down and prepare for their day to come to a close and prepare to tackle tomorrow's schedule.
11:00 PM: Lights Out
The day concludes at 11:00 PM, ensuring students receive ample sleep to rejuvenate for the challenges and opportunities of the next day.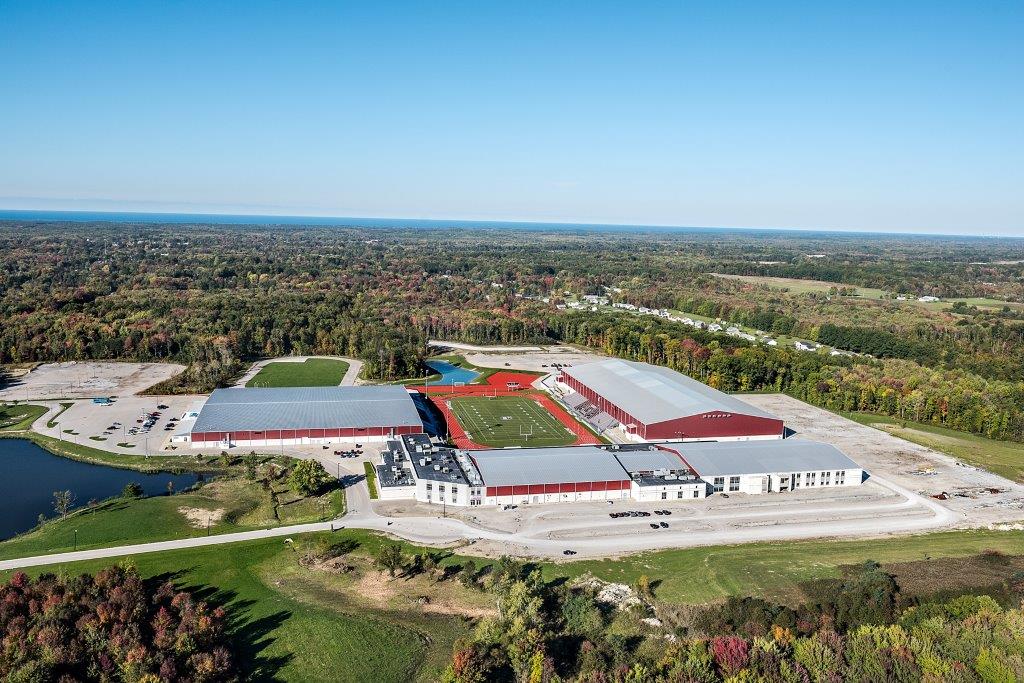 This meticulously structured daily routine is rooted in evidence-based research from neuroscience, health, education, and wellness. By implementing a balanced cycle of nutrition, physical activity, and cognitive stimulation, each respective high school academy strives to optimize student potential. Our vast network of international high school academies is firmly dedicated to offering holistic growth and ensuring that each student is equipped to excel both academically and athletically.
FirstPoint USA's extensive experience in sending more than 30,000 young men and women to the US on sports scholarships laid the foundation for us to create an additional service that supports younger children on the pathway to becoming student-athletes.Finding the right environment for your child's home from home can be a daunting experience, particularly with so many different factors to consider, not least sending a young person to different country.
At FirstPoint USA, we understand what families are going through, with years of experience working with those in a similar situation, combined with the knowledge and insights gleaned from speaking with and visiting our High School Academy partners. Studying and sport are just two key elements on offer. The schools that we work with each have their own unique traits: a variety of social clubs, extra-curricular activities, community engagement or other factors which deliver a personalised experience for your child.
Whether you are looking for an Academy specialising in a specific sport, a High School that focuses on a particular range of subjects, or a location that suits your needs, FirstPoint can guide you in the right direction, take the stress out of your decision-making and working closely with you to match your requirements.
---
To find out more, please contact a member of our team: academies@firstpointusa.com
FirstPoint USA is an international scouting service, providing recruitment services to thousands of high school and college programs, including NCAA, NAIA, and NJCAA member institutions seeking to identify the very best in overseas talent, both male and female.
The company was founded in 2001 by former University of Cincinnati All-American and Hall of Fame inductee, Andrew Kean, and evaluates over 100,000 prospective student-athletes, competing in over 20 different sports, across 187 countries each year.