US Sports Scholarship Placement
Becoming a US scholarship athlete is more than just your sporting ability. With FirstPoint USA, students are assisted academically and athletically throughout the scholarship process with the implementation and oversight of a personalised recruitment strategy by a team of experienced consultants, tutors and mentors.
Typically, there are two options for you to consider when deciding how best to secure a sports scholarship to an American university.
Option 1 - would be for you to consider pursuing a sports scholarship on your own. This is not always easy, but it is certainly possible. All of the information required is available online and this is a popular route for many scholarship hopefuls. There is clearly a reason why we exist, however the main benefit of pursuing the scholarship process by yourself is that it is completely free to do so.
Option 2 - would be to sign with FirstPoint USA. This means that you would have to pay a fee for our services, and we would handle all aspects of the scholarship process on your behalf. All FirstPoint student-athletes benefit from utilising our expertise, experience and network whilst saving you the time and hassle of the scholarship process; ensuring a successful outcome for you and your family.
FirstPoint Service
US degrees offer fantastic opportunities at some of the world's best universities and colleges. It's a life-changing experience, but finding the perfect place to spend the next three or four years isn't always straightforward. The right course, the right culture, the cost, the admin…they all have to be considered at the same time as studying for critical exams. That where FirstPoint USA comes in – we've been doing this for 18 years, and taken the hassle away from over 10,000 students and their families - placing them with one of 2,900 leading US universities and colleges partners. And raising a whopping $200 million in full and partial scholarships.
Our comprehensive service covers every aspect of your placement and scholarship experience; including admissions, college and university match-making, scholarship and funding application, brokering, SAT and ACT advice and guidance, and support for student visa application - a hands-on process that can take between 1 year and 18 months from start to finish. FirstPoint USA takes the hassle out of a process that often causes students to stay put… And once we've found your ideal college or university, our pastoral care is there for you and your family during your 4 years of study.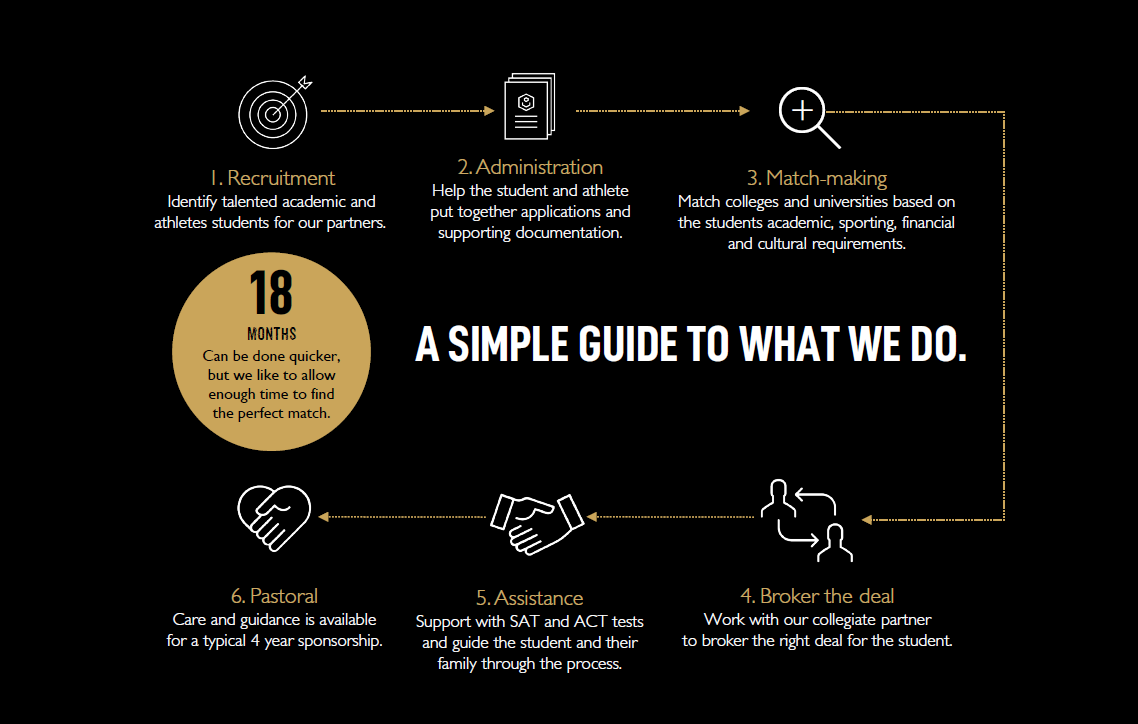 Our fees
In line with NCAA regulations, FirstPoint charge a one-off service fee for hands-on management, pastoral support and successful placement at a US university and sports team.
The service fee covers the following services:
Description
Free
Advanced
Create online Sporting & Academic Profile
Upload your Sports Footage & Highlights
Research over 6,000 Universities & Sports Teams across the USA
Be seen by over 56,000 Team Coaches & Scouts
Receive Notifications from Coaches & Scouts who Follow, Search and Shortlist your Profile
Full Access to Scholarship Matchmaking Platform & Resources
See which Coaches & Scouts wish to Recruit you
Contact Coaches Directly. Full access to Coach Database.
Input your Favourite Colleges and see your Match Analysis
Email coaches from your Message Center
Live Support Seven Days a Week
Direct Promotion to College Coaches
Exclusive Offers to Attend FirstPoint USA Showcases & Events
Exclusive Offers to Attend FirstPoint USA Showcases & Events
Guaranteed Placement at a US University
Grade Evaluation & Conversion Report (via InCred)
Live Athletic Evaluation, Filming & Scouting Analysis
University Application Preparation & Submission
Quarterly 1-to-1 Update Meetings
SAT & ACT Test Tuition & Guidance
NCAA/NAIA Eligibility Report Preparation & Submission
Four (4) Years of Pastoral Care & Support
Costs
Advanced:
£££
Arrange a Call
This is a one-off fee and entitles our student-athletes to the Firstpoint USA service that lasts for approximately 5 years; with the first year focused on securing suitable scholarship opportunities, and the years that follow providing mentoring and pastoral support to the athlete during their time in America.
Additional Costs to Consider
There are additional costs to consider when embarking on the journey of securing a sports scholarship to an American university. The following are a list of costs that are not included within FirstPoint's service fee that you should be aware of. Please note, that not all will be applicable to you:
The Student Visa (F1)
£300
NCAA or NAIA Eligibility Centre
£80
Social Costs (Cinema, Shopping, etc)
Varied
TOEFL (for non-English speaking)
£150
Tuition & Fees (if on partial scholarship)
Varied